US accuses Syria of stalling on chemical disarmament
The US has accused Syria of deliberately delaying delivery of its chemical weapons out of the country, warning of dire consequences under Chapter 7 of the UN charter. Despite security concerns Syria was urged to speed up its shipments of toxic materials.
"We now know that the Assad regime is not moving as rapidly as it promised to move the chemical weapons out of Syria," US Secretary of State John Kerry told reporters in Berlin.
Kerry reiterated that the Syrian government has a "global legal international obligation" to get rid of its chemical weapons arsenal by July 2014, and that breaking that schedule is a "serious issue" and may be considered an act non-compliance.
"I would remind Bashar Assad that the agreement that we reached in New York with the Security Council makes it clear that if there are issues of non-compliance, they will be referred to the Security Council for Chapter 7 compliance purposes," Kerry warned.
The resolution adopted by the UN Security Council last September states that all suspected acts of non-compliance should be referred to the council and, if considered accurate, may prompt measures under Chapter 7 of the UN Charter, which allows military and nonmilitary action to "restore international peace and security."
"Syria must immediately take the necessary actions to comply with its obligations," White House spokesman Jay Carney told media in Washington earlier on Friday.
"We all know that the Syrian regime has the capability to move these weapons. We're going to continue to work with our partners on this to keep up the pressure on the Assad regime."

700 tons of Syria's most dangerous "priority one" chemical stocks, including sarin and mustard gas, were meant to be delivered to the port of Latakia by the end of last year, where they would be taken to Cape Ray, a US cargo ship, and destroyed. By July of this year, all of Syria's 1300 tons of chemical weapons were supposed to be out of the country.

Instead, only two shipments have been made out of Latakia, constituting about 4.1 percent of the total stock, according to the Organisation for the Prohibition of Chemical Weapons (OPCW) which is working together with the UN on a plan agreed to by international mediators last September.

"While the two shipments this month represent a start, the need for the process to pick up pace is obvious," OPCW director Ahmet Üzümcü said in a statement on Thursday.

But Russia, which played a key role in negotiating the deal, has defended its ally.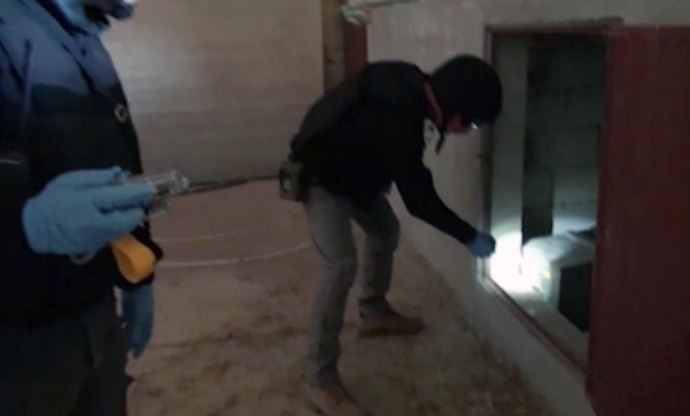 The foreign ministry's top disarmament official Mikhail Ulyanov has told Russian news agency Interfax that rebel fighters and international sanctions are to blame for the delays.

"Violence and threats of violence are sufficient reason to believe that radical forces are attempting to sabotage the disarmament process," said Ulyanov, who referred to a recent case when two Syrian officials guarding the weapons carriers were killed.

Ulyanov also said that international sanctions have prevented the importation of necessary materials for the safe extraction of toxic substances, as they are dual-use, and could be repurposed for the ongoing conflict.

US OPCW representative Robert Mikulak dismissed arguments pointing to a lack of security.

"Syria has said that its delay in transporting these chemicals has been caused by 'security concerns' and insisted on additional equipment - armored jackets for shipping containers, electronic countermeasures, and detectors for improvised explosive devices," Mikulak told the OPCW's executive council earlier this week.

"These demands are without merit, and display a 'bargaining mentality' rather than a security mentality."
A former commander of the British military's chemical defense regiment Hamish de Bretton-Gordon told RT that Syria's disarmament plan has always been a "hugely ambitious" venture which faced numerous objective difficulties.
"There's always been great difficulties doing this, this a hugely ambitious plan," he said. "I understand the majority of these chemicals and precursors are pretty much stuck north of Damascus. We know the sort of fighting that is going on, the contested areas it has to go through. And there is also a big battle going on just 25 kilometers from Lattakia."
Bretton-Gordon believes Syrian government can't be the only side to blame for the delay, since the "opposition do not appear to be helping realize the UN resolution" to move chemical weapons out of Syria.
All sides insist that the July deadline is still technically feasible, if now increasingly unlikely.
The destruction of one of the most potent chemical weapons arsenals in the world was a compromise designed to avert a punitive air strike on the Assad regime by the West. It was sparked by a deadly release of Sarin gas in a Damascus suburb in August last year, which Western powers blamed on government forces, and Bashar Assad said was carried out by rebels.
You can share this story on social media: