Chemical weapons watchdog appeals to private firms to destroy Syria stockpile
Published time: 21 Nov, 2013 16:03
Edited time: 21 Nov, 2013 17:20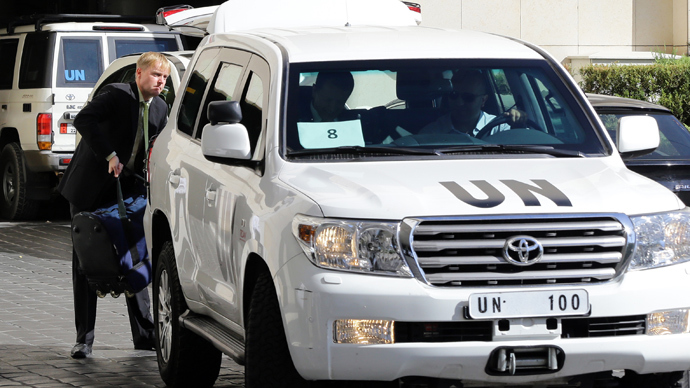 The Organization for the Prohibition of Chemical Weapons (OPCW) is urgently seeking for willing parties and a port to help in the destruction of Syria's 1,000-metric ton arsenal stockpile of toxic agents.
The OPCW is posting requests for "expressions of interest" from companies that would facilitate "the treatment and disposal of hazardous and non-hazardous organic and inorganic chemicals," AP quotes. A formal request to bid for commercial contracts is expected later in the day.

A senior OPCW official told the agency on condition of anonymity Thursday that more than 700 tons of chemicals listed could be eliminated at regular commercial facilities. The most hazardous chemical agents would still have to be disposed of at a secure location under OPCW supervision.  

A site, however, is yet to be found.

The report comes nearly a week after Albania, a NATO member state of 2.8 million people, rejected a US plan to destroy the nerve agents on its territory.

Albania, a staunch US ally, was the first country in the world to eliminate its own Cold War-era chemical weapons stockpile in 2007, a $48 million dollar undertaking mostly paid for by Washington.

Albanian Prime Minister Edi Rama, facing a November 15 deadline to finalize the plan, was facing mounting public pressure to scrap it.

Rama, who had spent the previous week negotiating with the US ambassador to Tirana, finally balked at the plan on Friday during a televised address.  

"It is impossible for Albania to take part in this operation," Reuters reports him as saying.
Albania's decision to back out has left US diplomats scrambling to find an alternative location to get the chemical weapons out of Syria.
The Hague-based global watchdog, along with Western officials, told Reuters on Tuesday that the chemical arsenal could be destroyed in the ocean, either on a ship or by loading them onto an offshore rig.

"The only thing known at this time is that this is technically feasible," an OPCW official said. 
In addition, the OPCW views another 500 tonnes of Syria chemicals, including actual nerve agents, as too dangerous to import into any country - or process commercially. Destroying them would require an off-shore treatment, presumably, on a US ship.

That process would also yield large volumes of toxic waste to be disposed of. For that, the chemical watchdog would also need to find a port in the area where it could oversee the off-shore work and ship out the waste.
"They are now looking around the Mediterranean region for countries with industrial waste capacity," a source involved in the discussions told Reuters. "It's ambitious."
The OPCW has until December 2 to identify companies "for destruction in commercial chemical disposal facilities of the binary chemical weapons components," according to the body's Executive Council Friday decision.
Under a plan hammered out by out by Washington and  Moscow in September, the majority of the deadliest agents, including mustard gas, sarin and VX nerve agents, should be moved out of the country by the end of 2013 and eliminated by mid-2014.

Assad agreed to surrender the weapons and join the Chemical Weapons Convention after US President Obama threatened a limited military campaign in response to an August 21 sarin gas attack that is suspected to have killed over 1,000 Syrian civilians in a Damascus suburb.