Syrian govt and opposition accuse each other of 'deadly chlorine attack'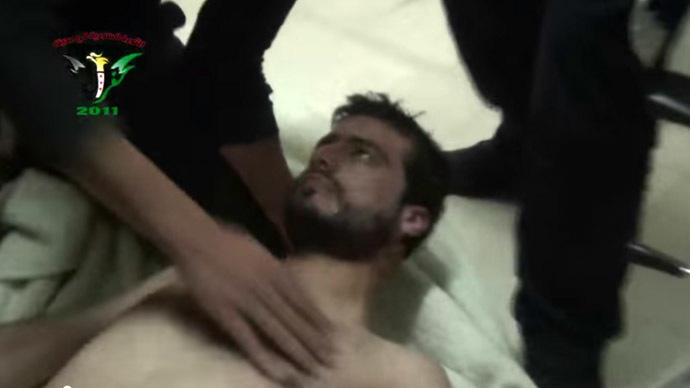 Syrian state channels say that Nusra Front radicals are behind a chemical attack that has killed two and injured more than 100 people in a village in central Syria, on Friday. The opposition insists the injuries were caused by government's bombardment.
State-run Syrian television blamed members of the al-Qaeda-linked Nusra Front for using chlorine gas in an attack on Syrian village that killed at least two people. It did not say how it confirmed chlorine was used. According to the report the Islamist group had planned two more chemical strikes on civilian targets.
Earlier on Saturday, videos showing a field hospital in Kfar Zeita – about 200 km north of Damascus and on the frontline of intense fighting – were uploaded by opposition activists. The pictures showed obviously weakened civilians, including small children, breathing through oxygen masks, as medical personnel attended to them.
"Regime planes bombed Kfar Zeita with explosive barrels that produced thick smoke and odours and led to cases of suffocation and poisoning," said Rami Abdel Rahman, from the Syrian Observatory for Human Rights, an outside non-profit generally sympathetic to the opposition cause.
The statement was later confirmed by the Syrian National Coalition, which did not specify what substance was used, despite informal reports that the attackers used chlorine, an irritant that is particularly dangerous when inhaled.
Chlorine, a commonly manufactured chemical is used to purify water, but is deadly as a gas. No outside observers have reached Kfar Zeita so far.
Earlier in April, Syria's UN Ambassador Bashar Jaafari warned the Security Council that armed gangs in Syria were conspiring to stage a chemical attack in the Damascus suburbs in order to later lay the blame on the Bashar Assad's government.
In August 2013, a chemical attack on a neighborhood in Ghouta left 1,400 civilians dead. The tragedy led to a Russian- brokered disarmament agreement that saw the Assad government give up its chemical weapons.