​Man charged with attempting to smuggle F-35 blueprints to Iran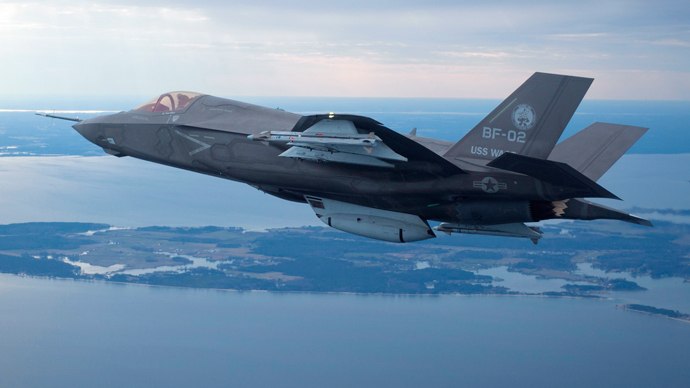 A man has been charged with attempting to send technical data on the F-35 joint strike fighter to Iran, according to the US Attorney for the District of Connecticut.
Mozaffar Khazaee was arrested on January 9 at Newark International Airport in New Jersey following the first flight of a trip to Tehran, Defense News reported.
Khazaee, a naturalized US citizen since 1991, was charged with "transporting, transmitting and transferring in interstate or foreign commerce goods obtained by theft, conversion, or fraud." He faces a maximum of 10 years in jail.
Federal agents began an investigation into Khazaee in November after he attempted to send a shipment to the Iranian city of Hamadan from Connecticut, according to the US government affidavit. In the shipment, agents found "numerous boxes of documents consisting of sensitive technical manuals, specification sheets, and other proprietary material for the F-35."
The shipment's thousands of documents included diagrams and blueprints of the F-35's engine. Some of the information was designated as export-controlled.
The documents included came from a company Khazaee worked for until August, though the affidavit does not identify the employer. It does say he worked on a team that focused on strength and durability evaluations for aspects of military engines.
Though the company was not identified, spokesman for jet engine manufacturer Pratt & Whitney, Matthew Bates, told Defense News Pratt is the company referred to as "Company A" in the affidavit.
"Pratt & Whitney has been cooperating fully with the government on this matter and will continue to do so," Bates said. "Because the investigation is ongoing, any additional questions about the investigation are better suited for the government to address at the appropriate time."
Property of two other unspecified companies was included in Khazaee's shipment. Defense News points out Rolls-Royce, a subcontractor on the F-35's engine program, is based in Indiana, where Khazaee went once leaving Connecticut. The company's US activities are based in Indiana.
A Rolls-Royce spokesman said Khazaee is not a current employee, declining to comment further.
"The F-35 Joint Program Office has been alerted to the investigation, and will cooperate fully with legal authorities pursuing the case," Joe DellaVedova, the joint strike fighter program's Pentagon spokesman, said in a statement. "No additional comment will be made while the investigation is ongoing."
The Pentagon's US$392 billion (and counting) F-35 program often called a boondoggle for the soaring costs and increasingly shifting priorities of air power standards is being developed by Lockheed Martin for the US and eight other countries: Australia, Britain, Canada, Denmark, Italy, the Netherlands, Norway and Turkey. In addition, Israel and Japan have placed orders for the fighter jet. The program is estimated to now stand at 70 percent over initial cost projections and several years behind schedule.
You can share this story on social media: