Market Watch November 13: How much deeper can we go?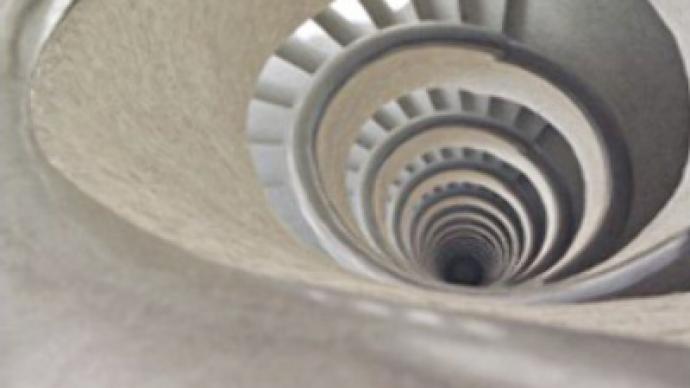 Thursday saw Russian stocks on the receiving end of yet another beating, as the overnight selloff on Wall Street washed over Asia, combining with plummeting crude prices to provide another pummeling for Russian investors. The only upside was that after a
You could say that absolutely nobody was expecting anything other than another body blow on the Russian markets this Thursday. Not only had global stocks turned from Wagner to Albinoni in the wake of revisions to the U.S. TARP relief program, but crude prices went from soft to mushy. The mood for Russian investors must, all things considered, have been akin the emotions of those who swim in warm tropical waters and hear a double bass solo, and move on to wonder if there's something else in the water with them.
In Moscow, some way from the tropics, on a chilly, but sunny, morning, investors making their way to work and fitting in some last minute research in between moments of terror that only Moscow's roads can inspire would have been apprised of two key facts. The first, that The U.S. Governments TARP program, which had originally been intended to buy toxic assets from banks, and get them lending to business once again, was being changed – and markets in the U.S. and Asia were reacting in the same way in which toddlers will react when pieces of candy, which they have come to know and like, are taken from them. The other fundamental piece of information to be digested for the investing fraternity would have been oil prices. The drive into work, which can sometimes inculcate in one an intense hatred for a sizeable portion of the rest of humankind, would have been punctuated by moods of profound somberness as the screen or radio in the car divulged WTI spot prices and Nymex futures hanging on for dear life barely above $55 BBL with Brent spot prices doing the same above $50 BBL – and the Urals price somewhere below that psychological landmark. A further shade of darkness was added by the IEA with its prediction that demand next year is likely to fall 1.6%, with the outlook starting to develop a more than passing similarity to the centre of Kasimir Malevich's "Black Square" (1913, State Russian Museum, St Petersburg) on further speculation about the value of the Rouble, and its downside potential.
After stoppages lasting for much of Wednesday afternoon on the RTS, and for a whole day on the Micex, anyone looking for upside was either taking psychotropics or had the script page upside down. Either way they were soon disabused. Within 35 minutes both the RTS and Micex had halted trade once again for hitting the downward limit on index movement. The RTS penciled in the obligatory hour, but the Micex initially called things off until Monday. A short time later, after some prompting from the Federal Financial Markets Service, it stepped back into the ring to complete the day. As the initial losses were pared somewhat in the afternoon session, investors can thank the regulators on this occasion, although with the pressure on the currency the Rouble denominated Micex saw the heavier falls. At the Thursday close the RTS was down 2.37% at 619.91 and the Micex down 7.62% at 598.43 – It doesn't look good, for sure; but it looks a lot better than the 568.38 did, 10 minutes out from the start of play.
The fall in crude prices overnight to 21 month lows hit Russian energy stocks, although losses were tempered later in the day by news that OPEC would meet in Cairo, Egypt later this month to discuss further production cuts. At the end of the day in Moscow Lukoil (down 9.85% on the Micex at close) GazpromNeft (down 9.81%) Surgutneftegaz (down 9.82%) were well down, with Rosneft (down 2.4%) escaping relatively lightly, with Gazprom (down 8.4%) also lower. After the close of the Russian markets a smaller than expected rise in U.S. crude inventories saw prices rebound slightly adding to some hope for a more positive day on Friday.
Metals prices showed continued weakness with copper, zinc, nickel, silver and gold all easing lower. That made for a negative day for Norilsk Nickel (down 3.75%) and Polyus Gold (down 4.94%), with Polymetal eking out a minor 0.26% gain. Steelmakers NLMK (down 17.33%) and MMK (down 14.75%) were both lower, as was coal miner Raspadskaya (down 9.19%).
Elsewhere major banks, Sberbank (down 7.26%) and VTB down (6.5%) continued their recent share prices woes, while smaller counterpart Bank Vozrozhdenie (up 0.33%) defied the market with a minor gain. Telecom, MTS (down 7.62%) gained no traction from the release of 3Q results in line with analyst expectations, with Rostelecom (down 2.64%) and Uralsvyazinform (down 1.31%) both lower. Automakers, Avtovaz (down 8.3%), Sollers (down 1.64%) and Kamaz (down 3.66%), all closed lower. In the retail sector, Sedmoi Kontinent gain 4.54% while Magnit lost 1.79%, pharmaceutical Veropharm powered against the tide with a 5.03% gain, and beauty products maker Kalina added 0.44%.
While this was unfolding in Moscow, things were looking only marginally better elsewhere. In London the FTSE 100 finished a topsy turvy day 0.31% under the starting mark with BT gaining more than 8% after announcing it would slash jobs. The Dax, in Frankfurt, chalked up a gain of 0.62% on a volatile day with carmakers BMW and Volkswagen gaining and retailer Metro slumping in the wake of official date showing that Germany has now entered a recession. In Paris a similar yo yo performance on the Cac concluded with it 1.1% higher, with Alstom up and Societe Generale down.
Across the Atlantic rebounding crude prices saw energy majors push the Dow higher on the back of the U.S. inventory data. This offset continuing gloomy forecasts, with Intel slashing $1 Billion of its 4Q sales forecast, and the release of worse than expected unemployment figures. A late afternoon rally pushed the Dow to a 6.67% gain for the day, adding more than 600 points after 2 PM New York time, with the Nasdaq up 6.50%, offering, at the very least, the possibility of a more positive day on the Russian indices come Friday.
Market Watch November 12: A short, sharp, shock – down
Market Watch November 11: Back on the dipper
Market watch November 10: Russian stocks get lift from China stimulus
You can share this story on social media: