Market Watch November 12: A short, sharp, shock - down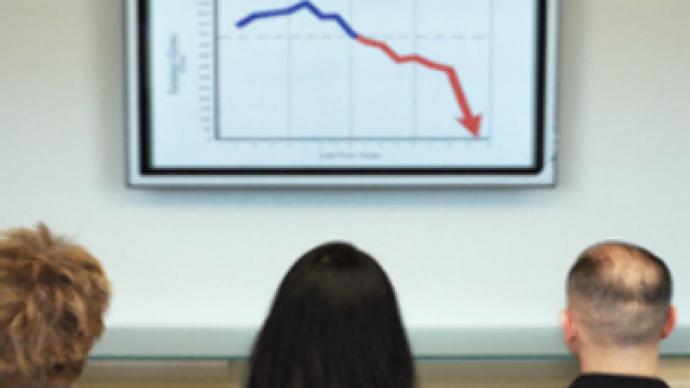 With the Micex exchange closed until Thursday, Russian investors were left with following the dollar denominated RTS exchange.
After the overnight falls on Wall Street, Asian market continued their slide albeit at a moderately slower pace. In Japan the Nikkei closed 1.29% down in very light trade, with a firming yen and sliding commodity prices adding to the wariness. The Hang Seng eased 0.7% with commodity stocks lower, although exporters edged higher in volatile trade. With the Micex halting trade on Tuesday night after falling nearly 13% and calling a halt until Thursday, Wednesday action centred solely on the dollar denominated RTS. As events transpired it probably wasn't a bad move. Trade was halted on the RTS at 13.05 Moscow time until Thursday, having shed 12.5%.
Oil continued to ease, despite warnings from the IEA that oil can be expected to climb over the longer term, with expectations that IEA demand growth estimates and U.S. inventories will underline a demand slump . Wednesday trade saw Brent and WTI spot prices hovering below the $55 BBL and $60 BBL marks respectively with the December futures offering no relief. This saw Lukoil (down 11.49% on the RTS at 15.30 Moscow time), Surgutneftegas (down 6.84%), Tatneft (down 7.69%) and Gazprom (down 14.10%) hit hard.
Metals also continued to ease with Zinc Copper Nickel and Gold all lower. That saw Norilsk Nickel down 12.9%, with Polyus gold and steelmakers NLMK and Severstal also falling. Further afield Sberbank (down 8.46%) continued its fall, but VTB (up 6.21%) managed to move higher, with IT services provider, Armada, down 28% and RosTelecom up 35%.
While this was unfolding in Moscow European bourses drifted in search of a lead. In London, the FTSE 100 was down 1.54% at 15.30 GMT. The Dax was down 3.25% with the Cac down 2.29%. In the United States the Dow was down more than 3% in mid morning trade.
Market Watch November 11: Back on the dipper
Market watch November 10: Russian stocks get lift from China stimulus
Market Watch November 7: Moscow's mixed bag, as the global outlook darkens further
You can share this story on social media: