Market watch November 10: Russian stocks get lift from China stimulus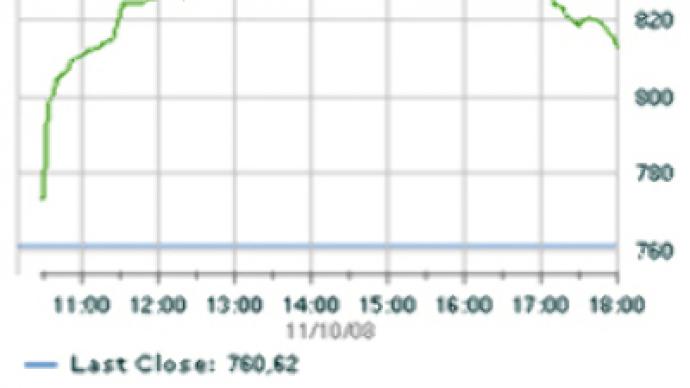 Russia's RTS and Micex indices moved higher on Monday as crude and most commodities firmed in the wake of China's unveiling of a $586 Billion stimulus package.
It's marvelous what a difference a weekend can make. On Friday investors around the world were absorbing the implications of some ugly economic data coming out of the United States, while picking up some bargains – enough to give the Dow a boost, but leaving some major questions over the global outlook. Monday saw China announce its first major response to the prospect of a major slowdown, and the size and scope of the response certainly provided a fillip for investors worldwide.
After posting its first single digit GDP growth figure in 5 years – the 9% annualized GDP growth figure in the September Quarter – the Chinese government has announced that it will outlay 4 Trillion Yuan ($586 Billion) in an economic stimulus package. That's approximately 20% of China's GDP, and will come with the Chinese Central Bank pursuing a moderately loose monetary policy. That helped Tokyo add 5.8% and Hong Kong add 3.5%, not to mention the 7.2% jump in Shanghai.
More importantly it did wonders during the day for commodity prices in particularly oil, gold, and base metals, and this in turn provided for a positive day for Russian stocks. The RTS and Micex were sharply higher during early trade before easing back throughout the afternoon. At the close the dollar denominated RTS was up 6.83% at 812.58, with the Rouble denominated Micex closing at 741.51, up 2.15%. Once again the additional 45 minutes trade on the Micex counted for a broadening of the spread between the indices.
Crude rose more than 5%, in the wake of the Chinese announcement, before subsiding as traders factored in the likelihood that the stimulus would hit until later next year. In late European trade, Brent for December had come back below the days starting mark to be at $57.13, with Nymex future and the WTO spot price barely moved. The easing back did much to explain the Russian markets doing the same. At the close of trade on the Micex however Rosneft (up 6.18%), GazpromNeft (up 8.36%) and Surgutneftegaz (up 3.82%) were solidly higher, with Lukoil (up 1.85%) also gaining. Also pushing higher was Gazprom (up 4.87%) with its smaller rival Novatek adding 9.9% on the release of its 3Q results, showing an 11% increase in profit, with a change in recommendation from Morgan Stanley – to overweight – also helping sentiment.
Like crude, base metals also opened sharply higher in London before easing back. After the Chinese stimulus was unveiled, Copper, Zinc and Nickel climbed as though jabbed with a cattle prod. This provided some motivation for investors to get back into Norilsk Nickel (up 8.74% at the close on the Micex) and to a lesser extent Polymetal (up 0.78%) with a 2% rise in gold prices seeing the way for Polyus Gold to add 2.23% to its lustre. Steelmakers also had a day out with NLMK (up 8.74% on the Micex at close), MMK (up 9.82%) and Severstal (up 3.49%) all posting solid gains. Also gaining was coalminer, Raspadskaya (up 4.61% on the Micex at close).
The biggest sombre note for the day came from fertilizer producer, Uralkali. Its shares slumped more than 26% on the Micex as the company noted its 'future existence is in doubt' after the Russian Government reopened its inquiries into the 2006 mine flooding at Berezniki, with press reports speculating that it could be forced to outlay up to $50 Billion over an incident which was previously declared to be force majeure.
Sberbank added 8.22% for the day on the Micex, with Bank Vozrozhdenie adding 2.6%. VTB could only manage a gain of 1.52% despite disclosing that it has now disbursed more than $14 Billion worth of loans to Russian companies since September. Elsewhere truckmaker, Kamaz, added 2.75%, while carmaker Avtovaz eased 0.32%. In retailing Sedmoi Kontinent (down 6.36% on the Micex at close) and Dixy (down 8.26%) bore the brunt of the move back into commodities while counterpart Magnit (up 0.76%) held its own. Veropharm added 2.56% and Kalina 0.85%, with Far East based telecom, Dalsvyaz, adding to its recent gains with a further 7.22%.
Whilst this was unfolding in Russia, European bourses told a similar tale with sharp early gains being eroded throughout the afternoon. In London the FTSE 100 closed 0.89% higher with resources stocks gaining strongly and financials and retailers closing lower. Amongst Russian focused stocks and GDR's Peter Hambro Mining (up 4.2%) and Highland Gold (up 2.8%) benefitted from the spike in gold prices, with Rambler Media (up 1.2%) and RGI (Up 1.37%) also gaining some traction. On the continent the Dax, in Frankfurt, added 1.76% with ThyssenKrupp and BASF gaining more than 5% apiece, and in Paris the Cac 40 added 1% with ArcelorMittal adding more than 5%.
A similar story unfolded in the United States with the Dow and Nasdaq opening higher before easing below the starting mark in afternoon trade in the wake of further bad results and outlooks. Recently bailed out insurer AIG reported a $24.5 Billion loss for 3Q, but its shares climbed as details of a revised bailout from the Federal Reserve came out, with retailer Circuit City filing for bankruptcy protection as General Motors and Ford both slumped on fears for the U.S. auto industry. Adding to the gloom were analyst outlooks for Goldman Sachs and Google. And at the close of trade the Dow was down 0.82% with the Nasdaq down 1.86%.
Baltika brews 9M 2008 Net Profit increase
Power Machines posts 1H 2008 Net Profit of $17.6 million
You can share this story on social media: