Aeroflot may exit SkyTeam alliance
Russian state-owned flagship carrier Aeroflot is considering leaving the SkyTeam alliance to improve its competitiveness.
Kommersant reported Russia's largest airline wants to jettison the SkyTeam alliance because of unfavorable business agreements with other members, in particular Delta, citing sources close to Aeroflot's board of directors.

Aeroflot, the first former Soviet air carrier to join a global alliance in 2006, is now reevaluating the developments of its routes in the United States, and its potential competitiveness in the market. Aeroflot cannot undercut prices of any other SkyTeam Alliance member on US routes.

In partnership with the SkyTeam, Aeroflot currently co-operates flights to New York City, Washington DC, Miami, Las Vegas, Boston, and 20 other US destinations.

Aeroflot's most popular flight path to the US is its Moscow-New York City route, which flies three times a day.

Aeroflot stands to lose $20 million if it drops the SkyTeam Alliance, which is currently comprised of 18 other member airlines, Delta, Air France, Czech Airways, Korean Air, and China Airways.

The Russian carrier could sign up for the Star Alliance, the world's largest, joining the ranks of 27 other airlines, including Lufthansa and US Airways, which, after its merger with American Airlines, is the world's largest airline.

Aeroflot has declined comment on the report.

Air France / Dutch KLM Airways, the leading member of the SkyTeam Alliance, had a $9.34 share value at 9:37 a.m. GMT Friday. 
Aeroflot was been awarded the international prize as the best air carrier in Eastern Europe at the 50th annual Le Bourget air show in Paris.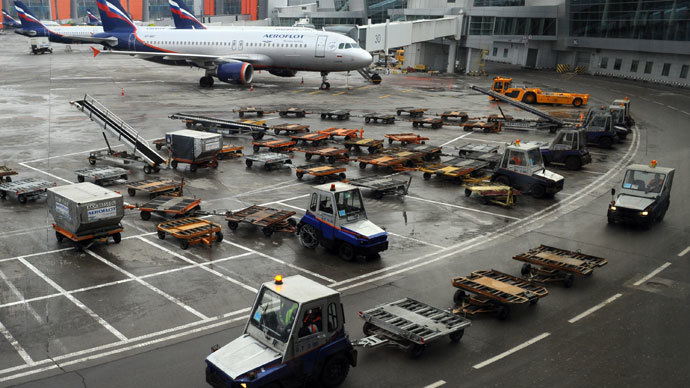 Privatization continues

Aeroflot posted a $1.71 stock value at 9:37 a.m. GST, slightly down from its 56.17 ruble opening Friday.

The company is semi-privatized, but the Kremlin plans to further privatize the company to raise funds for the budget.

"Our task is to sell these assets at the best price, raising as much money as possible for the budget," Prime Minister Dmitry Medvedev said at a state-asset sale on Thursday, Bloomberg reported.

Execs at Aeroflot propose delaying the asset sale for more favorable market conditions, as its stock has dropped over 50 percent since its 2008 high of $3.73 share price.

"We think Aeroflot should be privatized later depending on the market," Aeroflot CEO Vitaly Savelyev said in an interview at the St. Petersburg International Economic Forum two weeks ago.

The Russian government will reduce its stake in Aeroflot to just above 25 percent through 2016.

As of 2009, Aeroflot has been operating out of its own exclusive terminal at Sheremetyevo airport, where it has a fleet size of 138. Aeroflot also operates some of its flights from Vkunovo, an airport in south-western Moscow.  

Russian Deputy Prime Minister Igor Shuvalov said Thursday Moscow's three largest airports will also transfer to private ownership by 2016.

"We're moving towards the setting up of the Moscow Air Junction and we bear in mind that all the three largest airports will be privatized," he said addressing a regular session of the cabinet, hinting the consolidation of Sheremetyevo Airport was nearing.

Aleksandr Lebedev, KGB-man-turned-oligarch-turned Kremlin critic, recently sold his remaining 4.5 percent shares in Aeroflot. Today he stands trial on hooliganism charges which resulted from an on-air brawl with Sergey Polonsky.

You can share this story on social media: