Aeroflot may buy out Sibir airline
Published time: 28 May, 2013 14:25
Edited time: 28 May, 2013 14:36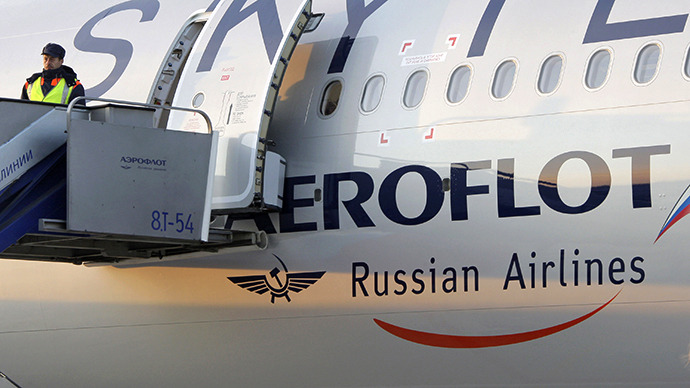 Russian flagship carrier Aeroflot, may soon acquire one of its smaller competitors, as officials consider a move to consolidate the airlines.
Officials are discussing the idea of strengthening Aeroflot through an acquisition of Transaero, UtAir, or Sibir, with a preference for Sibir, Vedomosti reported on Tuesday, citing a top Aeroflot management source. The possible acquisition first surfaced in October 2012 during a meeting between Aeroflot head Vitaly Savelyev and President Vladimir Putin.
No official proposals have been drafted or final decisions reached, but Sibir could be bought for cash or shares, and it's possible it may be picked up before Aeroflot's privatization, which is slated for 2016.
Sibir has already received two other bids, one from its parent S7 group and another from its subsidiary, Globus. Both of these airlines are controlled by Sibir's principal owners, Vladislav and Natalya Filyev.
The source said that if an offer for a 25.5 percent stake in Sibir is too low, the sale could be handed over to a state company, likely Aeroflot or Rostech.
The sale of Sibir to Aeroflot would be brokered by Alfa Bank for a price of $35 million (1.1 billion roubles) and the results will be announced on Thursday.
The sale came as a shock to the Filyevs, as the airline has been up for sale for the last 10 years, and then suddenly, it was "sold out of the blue" Natalya curiously states.
According to Filyev, the sale is a form of state blackmail. They have pointed fingers at the Federal Property Agency for moving the sale date from April to May with little explanation.
"All they want to is sell to a government stake, but they are not ready to pay too much," said Vladislav.
According to Vedomosti's source, Aeroflot will want to continue to work with the Filyevs, especially on expansion to Far East Siberia and China. If the acquisition materializes, Sibir will have Aeroflot's A320  Airbuses at their disposal.
The Russian government may sell Aeroflot shares this year as part of a plan to raise 427 billion roubles ($13.5 billion) through state asset sales to help balance the budget and reduce its role in the economy. The government is also selling off VTB and Rosneft shares.
Deputy Prime Minister Arkady Dvorkovich said there have been no specific proposals yet, but didn't provide further comment.
The merger between Aeroflot and Sibir may at first seem logical, as they it will allow them to develop their different niches, but later, could spell trouble once they start cutting jobs and increasing ticket prices. 
Airport wars
Sibir currently operates out of Domdedovo, which has two operating runways and is situated in Moscow's south, whereas the majority of Aeroflot flights fly out of Sheremetyevo airport north of the capital city.
As of 2012,  the Russian government owned an 82 percent share in Sheremetyevo airport, 25 percent in Domodedovo Airport, and 75 percent in Vnukovo, according to airporttechnology.com.
Domodedovo is Russia's largest and busiest airport, and attracts more private investment than its competitors. Both Domodedovo and Sheremetyevo are competing for the government's blessing to build a third runway, which experts estimate at minimum would run 50 billion roubles. 
Terminal D of Sheremetyevo opened in 2009 and is exclusively used for Aeroflot traffic.
Putin has recently spent billions of dollars revamping all three airports, likely in anticipation for future privatization sales. Once the airports have been completely modernized and developed, the Kremlin has voiced it no plans on keeping them as state-owned assets.
In an audit report, Aeroflot reportedly mis-spent over $443 million in 2010-2011, and the first nine months of 2012, auditor Sergey Ryabukhin said at a Federation Council Rules Committee meeting in late Apri.
Aeroflot began operation in 1923 as the national Soviet airline, and is celebrating its 90th anniversary this year. The airline flies to 187 countries and in 2012 serviced 17.7 million passengers.