American Airlines and US Airways announce world's largest air carrier merger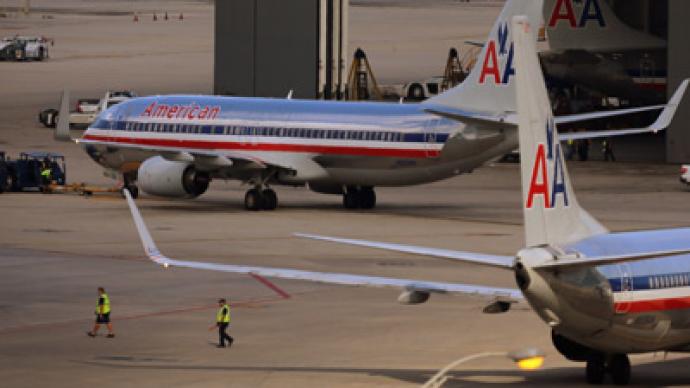 It's a happy Valentine's for American Airlines and US Airways, as they have announced an $11 billion merger to create the world's largest air carrier on Thursday after directors approved the deal.
Before the announcement the boards met separately and approved the merger that has been in the works since August, when creditors forced American to choose between a merger and bankruptcy, according to sources close to negotiations. With the merger the new entity joins the ranks of recently consolidated companies United, Delta, and Southwest. Together, the four companies will control 75% of the US market. The new 'American' brand is expected to boast 32% market share.The carrier will operate under the American brand but will be run by US Airways CEO Doug Parker. AA CEO Tom Horton will serve as chairman of the new company through 2014. The new fleet will have 950 plans, operate 6,500 daily flights, eight major hubs, will employ 94,000, and sales of nearly $39 billion, multiple sources report. Arizona based US Airways will relocate to Dallas, Texas, where American has its largest hub. Bankruptcy creditors of AMR Corp., the parent company of American Airlines, will own 72 percent of the new company, and US Airways stockholders will own 28 percent, Bloomberg BusinessWeek reports. The merger is a huge tactical win for US Airways, and its director Doug Parker. Parker is a seasoned veteran of airline mergers. In 2005, when he was the head of America West, he masterminded a merger with US Airways.US Airways is only half the size of American and its brand is almost unheard of outside the United States, yet, the small no frills airline has thrived in the tough consumer market. Last year the company posted a record profit of $637 million, AP reports.American Airlines, which just 5 years ago was America's largest, was barely staying afloat when merger talks commenced. The 2008 recession and losses of $12 billion between 2001 and 2010 forced AMR Corp. to enter bankruptcy protection in November 2011. Since filing for bankruptcy protection the company had lost another $2.8 billion. The merger is the fourth in a series of US airline reshuffles. Since 2008, Delta bought out Northwest Airlines, United absorbed Continental and Southwest bought AirTran. These four surviving heavyweights now dominate the industry. There are mixed reports on how the merger will affect consumers. Delta, United, and Southwest, all products of consolidation, have been able to offer customers bigger networks, while at the same time improve their profits. PriceWaterhouseCoopers suggests that creating a third big 'global' US airline (Southwest is only domestic) could actually help keep fares low. The new AA will bring more competition to the market tightly controlled by United and Delta. Kevin Mitchell, chairman of the Business Travel Coalition, disagrees. He foresees the merger's negative impact will outweigh any positive consumer benefits. This includes 'reduced competition, higher fares and fees and diminished service to small and midsize communities,' Mitchell told the New York Times. There won't be any overnight changes for customers. Both airlines will continue to issue their own tickets, and it will be months before the frequent flyer programmes and routes are synchronized. When the merger plays out, American's presence will increase on the East Coast- specifically in New York's LaGuardia Airport and Washington's Regan National Airport. AA currently has hubs in Dallas-Fort Worth, Chicago, Miami, New York and Los Angeles. US Airways has hubs in Charlotte, Philadelphia and Phoenix.
You can share this story on social media: