Weaker currency created new Russian ruble billionaires in 2014
Published time: 24 Jul, 2015 13:37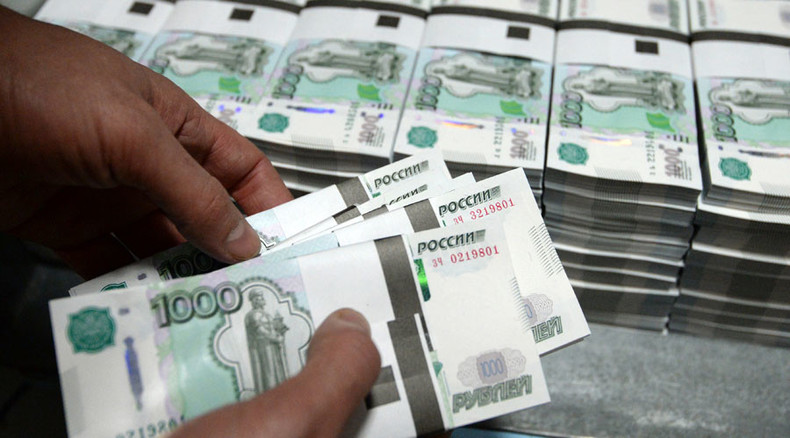 The number of taxpayers with an income of more than one billion rubles increased in Russia by almost six percent in 2014, according to federal statistics. Ruble devaluation and government policy to end the use of tax havens are said to be main factors.
Three hundred and nine Russians had an income of more than one billion rubles compared to 292 the year before; Russian daily Izvestia reported Federal Tax Service data Friday.
Russia also had 451,000 people with incomes between one and 10 million rubles, a jump of 13 percent.
The number of people who submitted tax forms grew last year along with the amount of income tax paid, which was up over 12 percent at 58 billion rubles.
In April Forbes reported that the number of US Dollar billionaires in Russia fell to 88 from 111.
Analysts say that the Russian currency's devaluation and the anti-offshore policy helped Russians create new fortunes.
Some people adjusted to the situation and could take advantage of it, according to Roman Terekhin, partner from legal firm Delovoy Farvater. "It was possible to make money on currency rates, on the rise in prices for imported goods, etc. Those who receive a salary or have savings in foreign currency also saw growth in income as the ruble weakened and their income increased," Terekhin told Izvestia.
"We see that many wealthy customers have returned part of their property from offshores back to Russia. Their income is now declared in Russia and the taxes are paid which influence the statistics," Mikhail Orlov, the head of the tax and legal department of KPMG said.
In 2014, the ruble lost almost a half its value against the US dollar due to plummeting oil prices and Western economic sanctions. Until mid –May 2015 the currency recovered to hit 49 rubles against the greenback.
READ MORE: Russian ruble hits 18-wk high
However, the currency has been mainly going down in recent months, pressed by the expectations of Iran's comeback to the oil market, an increase in the US interest rate as well as crises in Greece and Ukraine. On Friday the ruble was trading at 58.43 against the dollar and 63.91 against the euro by 15:25 MSK on the Moscow Exchange.
READ MORE: Putin signs law on offshore assets amnesty

Last year Russian President Putin signed an anti-offshore law requiring individuals and businesses to report foreign profits. The bill was aimed at curbing the outflow of capital from Russia which was estimated at $2 trillion in recent years.
The number of Russian offshore transactions almost halved in the first quarter of 2015, falling from last year's $13.1 billion to $5.9 billion, the Russian Central Bank said.