Russian ruble hits 18-wk high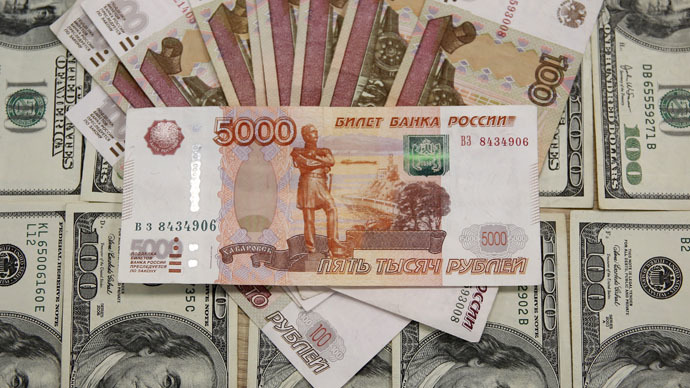 The Russian currency continues its recovery against the US dollar on Wednesday, trading at its highest level since the end of November 2014, as oil prices rise and investors see geopolitical risks diminishing.
The ruble was trading at 49.3 against the greenback at 10:45am MSK on the Moscow Exchange. On November 28, 2014 the ruble traded at 49.47 against the dollar.
READ MORE: Ruble passes 50 against USD for 1st time since November
Higher oil prices come as a key driver, with Brent adding 0.85 percent to trade at $67.43 per barrel on Wednesday at 11:00am MSK and WTI climbing about 1 percent to $61.36 per barrel.
Reborn ruble powers well past psychological 50 per $ as oil climbs and JPMorgan says Russia is coping with sanctions pic.twitter.com/sRiOvGk8XV

— Jason Corcoran (@jason_corcoran) May 13, 2015
The escalating conflict in Yemen is a strong driver of oil's resurgence. On Saturday, the international coalition headed by Saudi Arabia made over 100 airstrikes on the northwestern provinces of Saada and Hajja. The strikes took place after Yemen's Houthi fighters fired mortar bombs and rockets at a Saudi Arabian border town on Tuesday last week for the first time since a the military campaign against them began on March 25.
READ MORE: Russian ruble seen as world's best performing currency, hits 2015 high

While Yemen is not among the major oil producers, investors are concerned that the fighting could affect shipping by Saudi Arabia, the world's biggest oil exporter.
READ MORE: Iran warships to accompany humanitarian cargo ship to Yemen
On Tuesday the cartel of major oil exporting countries OPEC revised up its forecast for world oil demand this year. Now the Group of 12 major oil producers says demand for crude will go up by 1.18 million barrels per day (bpd) of crude to 92.5 million bpd in 2015.
The meeting of the Russian President Vladimir Putin and US Secretary of State John Kerry in Sochi, Russia, on Tuesday was another factor that inspired investors. The talks were the first since Crimea reunited with Russia over a year ago.
The approaching May tax payments in Russia also increases demand for rubles, pushing the currency higher.
You can share this story on social media: