Putin offers amnesty for money coming back to Russia
Vladimir Putin has proposed a total amnesty for all funds returning to Russia a month after signing an anti-offshore bill curbing capital flight. 'Let us put this page in our history behind us. Do it once, but right' he told the Federal assembly.
The amnesty is one of a raft of pro-business measure proposed by Putin in his annual address that also included anti-corruption measures such as a 'supervision amnesty' for SME's.
The president also offered not to change the tax regime over the next 4 years.
"It's necessary to put into practice the decisions already made on alleviating the tax burden, particularly for those who are just starting work. Also we have agreed newly registered small enterprises will get tax relief for the first two years. Also, start-ups will get benefits. I also propose to launch a full amnesty for capital returning to Moscow. I insist, a full amnesty," Putin said.
URGENT: Putin offers amnesty for offshore money coming back to Russia http://t.co/1JobR3yHG9pic.twitter.com/xwxqRMeaCI

— RT (@RT_com) December 4, 2014
Last month Putin signed an "anti-offshore" law requiring individuals and businesses to report foreign profits. The bill is aimed at curbing the outflow of capital from Russia which was estimated at $2 trillion in recent years.
READ MORE: Putin signs 'anti-offshore' law
Putin's decision to introduce an offshore amnesty gives capital a real chance to return to Russia, said presidential spokesperson Dmitry Peskov in an interview with Rossiya 24 TV.
"The initiative of a foreign capital amnesty is a unique opportunity. The president clearly said – do it once. That means it's the only chance in history to return their capital, to come back home with all the money, to return it back to Russia, and use the money for the country's development," he said.
President Putin's call to bring money back into the country was less a message for foreign investors and more aimed at a domestic Russian audience, Aleksey Moiseev, Deputy Finance Minister of the Russian Federation, told RT.
"This is more addressed to domestic economics. In recent years, we've done a lot to improve the Russian financial infrastructure- now it's in line with top international standards. People that have been keeping their money abroad for whatever reasons, we want this money to be returned and utilized in Russian markets," the minister said.
Putin also said it was necessary to free Russian business from red tape and restrictive oversight.
All checks on Russian businesses should be public. He said that next year the government is starting a special register with the information about who initiated the checks, why they were done, and the results.
"This will help preventing unmotivated or, even worse, specially ordered visits by inspectors. I should add that this problem is relevant not only for business but also for the budget and local government agencies" Putin said.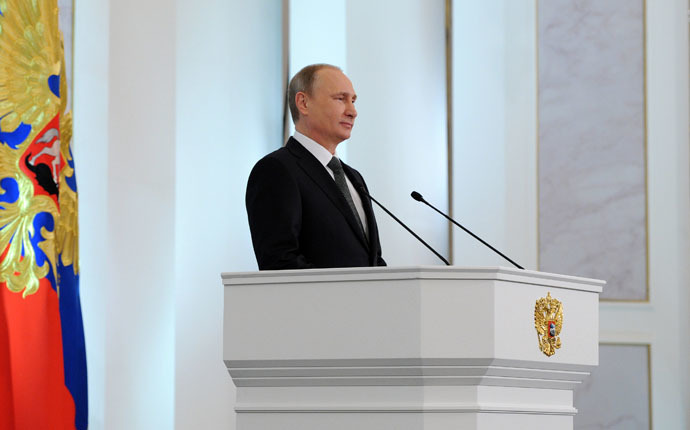 However, some experts believe the measure will have a limited effect as it happened before in other countries.
"Full amnesty for capital flight is a measure that is frequently introduced by countries that have suffered capital flight problems. For instance, Italy used to have a lot of problems and from time to time used to announce tax amnesties," said Gabriel Stein, Director of asset management services of Oxford Economics. " There is usually some modest take-up but broadly speaking the fundamental reasons why there has been capital flight, money brought abroad usually remain even after the amnesty and businesses tend to worry that whatever is promised in the amnesty may be a reverse later. I fear that the impact of this will be limited."
Russian President Vladimir Putin was addressing the Federal Assembly in the Kremlin, as economic woes in Russia are increasing.
Western sanctions levied on Russia over the unification with Crimea, and falling oil prices have sent the Russian ruble plummeting.
President Putin believes sanctions are only a pretext for confrontation aimed at holding back the growing potential of Russia.
"Every time they believe Russia gets too strong, they use these instruments. But it's pointless to talk to Russia in the language of force," he said.
The ruble has lost more that 40 percent against the major currencies since the start of the year, while the price of oil has fallen at almost the same pace from its high of $115 a barrel.
READ MORE: Cheaper oil takes Russian ruble to new lows; officials say no reason to worry
Earlier this week Russian Economy Minister Aleksey Ulyukaev warned the country may fall into recession, but was criticized for being too pessimistic.
Finance Minister Anton Siluanov said the economy stands to lose about $140 billion from sanctions and cheapening oil.
However, a number of Russian politicians maintain the economy won't be hit hard, as a combination of a lower ruble and cheaper oil will mean the same revenue for the budget.