Russian markets & ruble hit new lows, as OPEC oil decision weighs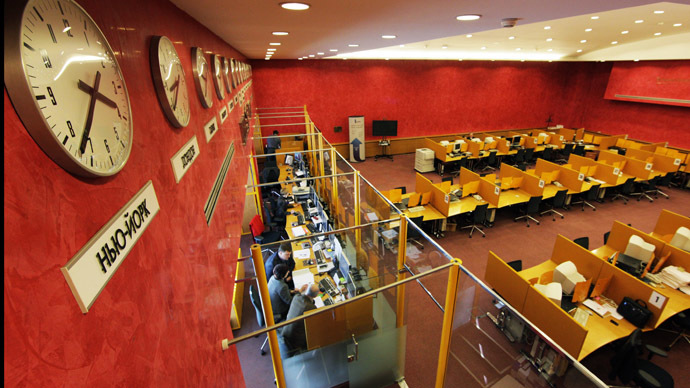 The Russian dollar-denominated share index RTS, has plunged below 1,000 points Friday, with the ruble hitting new lows against the dollar and the euro. This is after OPEC decided to let the market stabilize oil prices and keep output as is.
The price of oil is also dipping on Friday, with WTI futures below $70 per barrel and Brent going down to $72.
The RTS fell by 3.1% to 975.50 points after earlier hitting a five-year low of 969 points, the lowest since 2009.
Investors are growing negative, as the 12 members of the Organization of the Petroleum Exporting Countries (OPEC) decided on Thursday to keep daily oil output at 30 million barrels, despite a major oversupply that has caused oil prices to fall more than 30 percent.
READ MORE: Oil slumps 4% as OPEC leaves output unchanged
The Russian ruble also slumped back after the OPEC made its decision. During the week the currency had been making attempts to recover.
READ MORE: Russian ruble continues recovery, as oil back to $80

The ruble went down to 49.52 against the dollar by 12:30 MSK Friday, weaker than the previous close at 49.28 rubles per dollar. The ruble's rate to the euro has hit a record 61.63.
Russian dependence on oil exports makes the ruble and ruble-denominated assets vulnerable to changes in the oil price.
Earlier in November the Russian Central Bank decided to move to a free float ruble, hoping to get rid of the speculative pressure on the currency. The Russian ruble has lost more that 40 percent against the US dollar since the start of the year.
READ MORE: Russia ends dollar/euro currency peg, moves to free float