OPEC is a 'struggling dinosaur' in age of shale – analyst to RT
The cartel that produces more than 40% of the world's oil will meet to discuss weak oil prices that are costing some members dearly. OPEC's low price strategy is poor, and shows the organization is a "struggling dinosaur," an expert tells RT.
On Thursday, the 12 OPEC members will be faced with one main question: whether to move oil prices higher by holding onto more reserves or let go. Investment banker and analyst Jack Worthington said the cartel may, for geopolitical reasons, keep prices low to hurt US shale.
"It's rarely a winning strategy when high cost producers try to force out low cost producers out of the market by hanging onto reserves, eating up reserves, it just ends in a vicious circle," Worthington told RT.
Low oil prices don't affect OPEC heavyweight Saudi Arabia which only needs prices in the mid $70s to keep its budget balanced, whereas US shale becomes unprofitable at around the $80 benchmark, according to the IEA.
"I think it's a failing strategy, kind of like a struggling dinosaur. They may try and perpetuate this strategy, but at the end of the day, I don't think it is an effective one," Worthington said, adding that when the price is right US shale will easily be able to hop back into the market.
The US shale oil boom, coupled with weak demand from Europe and China, has led to a more than 30 percent drop in oil prices since June, and was trading at $78 Wednesday afternoon ahead of Thursday's talks.
"I think there could be overriding geopolitical considerations. Another objective of OPEC, that all of us have heard, is that they want to remove some of the excess production out of the shale industry in the US," said Worthington.
Crude output in the US is at a 50-year high having increased 60 percent since the onset of the fracking boom in 2008.
"US shale production is here to stay. I think it's a massive, destabilizing influence, as we always thought it would be. The Saudis and the rest of the world are just going to have to deal with that," Worthington added.
'Backroom talks'
According to Worthington, one of the strongest geopolitical collusions is between OPEC member Saudi Arabia and non-OPEC member US.
"It's a confluence of mutual beneficial interests with Saudi Arabia and the United States. Clearly, I think these guys are in backroom discussions," Worthington said.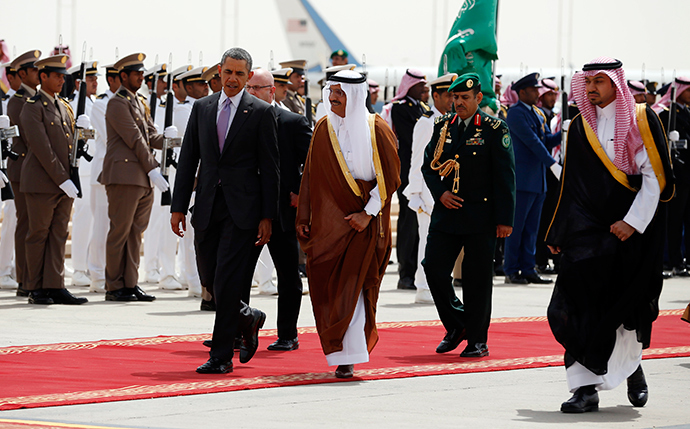 Saudi Arabia is the largest exporter of petroleum liquids in the world and is home to the world's largest proved crude oil reserves, but the US is poised to overtake it. Russia accounts for 14 percent of the world total.
Moscow is particularly vulnerable to political plays by the US and Saudi Arabia, since they are one of the more vocal advocates of shifting away from exclusively using the dollar in oil pricing, which the US and OPEC agreed in 1971. This, according to Worthington, makes Russia a 'target' of the US.
READ MORE: Ruble-yuan settlements will cut energy sales in US dollars – Putin
Pressure from all sides
Within OPEC there is a wide range of what price countries need to sell their oil to balance their budgets. Kuwait can make money selling at $44 per barrel, whereas other members, like Iran, don't see revenue unless prices are above $130 per barrel.
Venezuela, for example, is heavily pushing for a supply cut to alleviate financial pain.
On Tuesday, OPEC members Venezuela and Saudi Arabia met with non-OPEC members Mexico and Russia, to discuss cutting production, but the talks ended in stalemate.
READ MORE: Russia, Saudi Arabia, Mexico, Venezuela decide not to cut oil production
Before the meeting it was reported that Venezuela, along with Ecuador were considering cutting output. There were also reports that Russia would cut production, but the country's Energy Minister Alexandre Novak denied them Wednesday.
You can share this story on social media: