Brent tumbles below $80 threshold as OPEC surplus continues
Brent crude continues its downward spiral, dipping below $80 per barrel, an important benchmark for global oil supplies, as the Organization of Petroleum Exporting Countries (OPEC) continues to resist cutting production with prices reaching 4-year lows.
The European crude benchmark, Brent, lost more than 2 percent, dropping to $79.86 at 11:00 MSK Thursday morning. WTI, which is traded in the Americas, traded lower at $76.93.
The last time the price of Brent crude oil fell below $80 was in September 2010.
Prices below $80 will further strain oil producing countries, since for many selling oil under $80 is unprofitable. Oil exporting countries base their budgets on oil prices. Iran needs a price at $140 per barrel to balance its budget, whereas Saudi Arabia needs a price of $90.70 per barrel, Qatar $77.60 per barrel, and the United Arab Emirates $73.30 per barrel.
Much speculation has been tossed around that Saudi Arabia is intentionally lowering prices to squeeze out US dominance in the crude market, which Oil Minister Ali al-Naimi dismisses as nonsense.
READ MORE: BOOM: US shale surge sinks demand for Saudi petrol
"Talk of a price war is a sign of a misunderstanding, deliberate or otherwise, and has no basis in reality," Naimi said Wednesday, Reuters reports. "We do not set the oil price. The market sets the prices."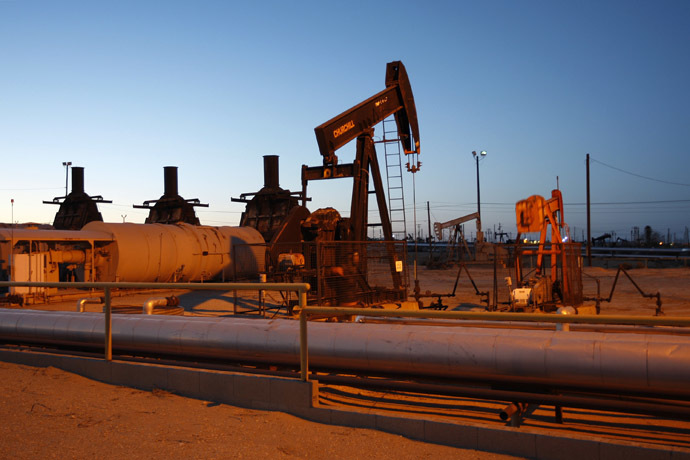 Low oil prices also puts US shale at stake, according to the latest Energy Information Association report, it can only be profitable above $60 per barrel, or $30 in the long-term. The shale boom has in 10 years transformed the US from the world's biggest importer of petroleum products to the second largest producer, behind Russia.
OPEC nations will meet on November 27 in Vienna, Austria, and may decide to reduce production in order to boost oil prices, since many of the countries in OPEC require a price above $75 per barrel to balance their budgets. The Wall Street Journal reported on this earlier in November.
OPEC nations account for 40 percent of the world's oil, but there is discord between the 12 members, especially from Venezuela and Ecuador which are being hit hard by the falling prices.
Citigroup analysts believe that Saudi Arabia will only agree to production cuts if the other 11 members agree to do so first. Both Venezuela and Ecuador plan to reduce output.
In the last report prior to the meeting, OPEC expects 2015 demand will drop to 29.30 million barrels per day, almost 1 million less than current production.
In October output from the 12 OPEC countries reached 31 million barrels per day, and prices averaged at $86.06 per barrel, a $10.96 drop from September, according to OPEC's November report. Oil prices have collapsed since the peak price of $115 in June as output from the US flooded the market, as well as the surprising reemergence of Libyan oil production. Other economic factors include a sluggish Chinese economy, the end of the US stimulus program, and worrying economics of Japan and the eurozone.
MORE
You can share this story on social media: