​Oil at $90 will support Russian ruble – Deutsche Bank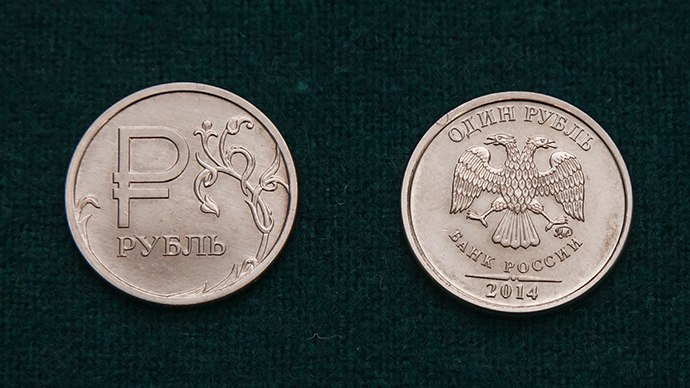 A recovery in oil prices to $90-$100 per barrel would be an important support for the Russian ruble, which has lost about 39 percent against the dollar since the start of the year, says Yaroslav Lissovolik, Managing Director of Deutsche Bank Russia.
The current pressure on the ruble wouldn't have been as significant if there had not been such a drastic reduction in oil prices, Lissovolik told RT in an interview.
The Russian ruble has been extremely volatile in recent weeks, reaching record lows daily. It started to recover in Friday trading after setting new record lows at over 60 rubles against the euro and almost 49 rubles against the US dollar on the Moscow Exchange. At an emergency meeting on Friday the Central Bank said it's ready to introduce extra measures at any time if necessary, as increasing demand for dollars could put financial stability at stake.
READ MORE: Russian ruble plunges as Central Bank announces limit to intervention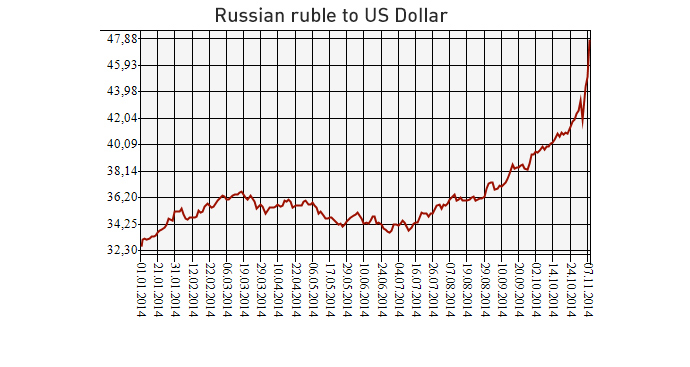 Experts agree the currency is being pressed by a falling oil prices, as well as the Ukrainian crisis, sanctions, and investor speculation.
December futures for WTI and Brent also started to slightly bounce back on Friday, after the group of Oil Producing and Exporting Countries (OPEC) said it wasn't panicking about current low prices. However, prices at about $78 per barrel for WTI, and $83 per barrel for Brent, are still hovering around four–year lows.
The ruble's fall comes at a time when Russia's monetary authorities are gradually moving the currency to a free-floating regime, which Lissovolik believes is the right move.
"This is a right decision to allow more exchange rate flexibility, first of all it will allow the Central Bank to save reserves and not to spend them at the rate we saw in October of this year," he said.
In October the Russian Central Bank (CBR) spent nearly $30 billion to defend the currency. Russian Finance Minister Anton Siluanov says the CBR has enough cash to support the ruble in case of an emergency.
Also, the strategy is in line with the bank's longer-term objectives to target inflation.
"This is something that allows ruble to find its more objective fundamental value based on market forces once there is a dissipation and speculative pressure on the ruble," he said.
However, a weak ruble is not a panacea for solving Russia's macroeconomic problems. It is fraught with the problems of higher inflation, which is negative for people and companies in terms of their input costs, Lissovolik added.
It's hard to estimate threshold levels, much more depends on the actions taken by the Central Bank, he said. If there is more forceful action in regard to longer-term support for the markets and banks, there won't be as much overshooting by the ruble. Otherwise there's clearly a lot of speculative pressure that may continue depreciating the ruble.
Most recently, the Central Bank of Russia has taken some decisive measures to help support the ruble.
On October 31, the bank increased its key interest rate by 150 basis points to 9.5 percent. The bank also enacted a new market tool – a currency repo or repurchase agreement that will provide up to $50 billion by the end of 2016. It allows for balancing the ruble without using Russia's reserves
You can share this story on social media: