OPEC 'not panicking', will intervene should oil drop to $70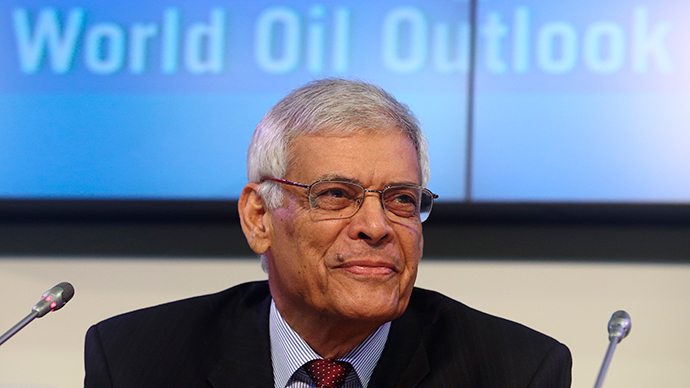 OPEC says the oil price will start rising in the second half of 2015 and will reach $177 per barrel within the next 25 years.
"We are concerned but we are not panicking," said Abdullah el-Badri, head of OPEC, said at a news conference for the release of the group's 2014 World Oil Outlook on Thursday.
The organization said it expects the price of crude oil will increase in the middle of 2015 to reach $110 per barrel. The OPEC reference basket will reach $124 per barrel in nominal terms by 2025 and $177 per barrel by 2040.
Oil prices have dropped by more than a quarter since the middle of June as supplies are more plentiful and demand growth is slowing.
OPEC says the demand for crude from its members may fall to a 14-year low of 28.2 million barrels a day in 2017 before starting to rise again in 2018. That's 600,000 barrels a day less than last year's report, and 800,000 below the amount required this year.
The price fall led to expectations that OPEC countries would agree to cut the output ceiling to support prices at the coming meeting scheduled for November 27. For many of the OPEC members a price below $80/bbl would mean a huge loss in revenue.
"At $70 a barrel, there will be panic in OPEC. We have become used to living with $100 a barrel," said one OPEC official, speaking on the sidelines of the meeting, the Wall Street Journal says.
The demand for oil will reportedly be at its highest in such developing countries as China and India. Around 71 percent of overall consumption will fall on Asian countries.
OPEC says Western sanctions won't have a tangible impact on the Russian oil industry. According to experts, the extent of oil production in Russia may fall slightly by 2018, but the volumes will start rising in 2019, reaching 11.4 million barrels per day. The Asia-Pacific Region will become the main consumer of Russian oil. At the same time OPEC leaves open the possibility that a number of Russian oil deals may be scuttled or postponed through sanctions.
You can share this story on social media: