Russian ruble plunges as Central Bank announces limit to intervention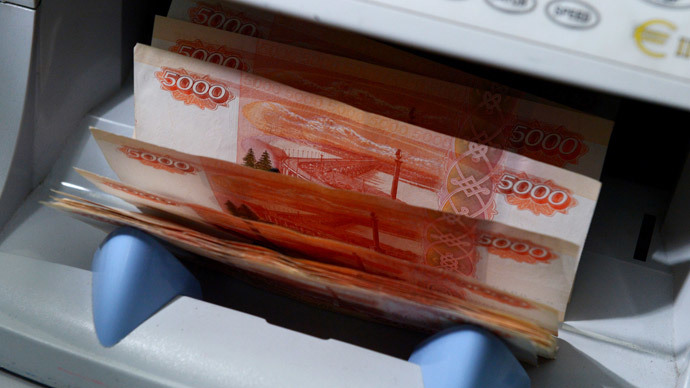 The ruble hit historic lows against the dollar and euro after the Russian Central Bank announced it will essentially cap the amount it spends to defend the currency.
The Russian Central Bank's switch to a more proactive currency regime will allow the bank to "surprise" markets by making the ruble interventions more sporadic and less predictable. This caused the ruble to plunge in opening trading hours.
At market close in Moscow, the ruble settled at 44.91 against the dollar, and 56.10 against the euro. The ruble has lost more than 25 percent against the US dollar this year as a result of lower oil prices, the Ukraine crisis and the sanctions, along with the US winding down its stimulus program.
"I think it's highly likely that the ruble will fall to a so-called 'psychological' level of 50 against the US dollar by the end of the year. But it shouldn't fall below this threshold, as it can cause some serious social consequences," Aleksandr Pasechnik, chief analyst at Russia's National Energy Security Fund, told RT.
The bank, which has already spent $68 billion defending the turbulent ruble this year, will no longer automatically intervene once the ruble pushes above its trading band. Support for the ruble will be limited to $350 million per day.
"In cases when the value of the bi-currency basket stays at the operational band's boundaries or beyond it during the entire trading session, the volume of the Bank of Russia's intervention will not exceed $350 million on that day," the regulator said in a statement Wednesday.
Before, the amount the bank could intervene was unlimited. The move to limit is yet another step towards pushing the currency to a free float status by 2015, a goal initially set out by chairwoman Elvira Nabiullina when she assumed the helm of the bank a year and half ago.
"The move is an effective move to a free float from now on," Vladimir Osakovsky, chief Russia economist at Bank of America Merrill Lynch, told Reuters.
Last Friday, the bank raised its key interest rate to 9.5 percent, and like Wednesday's decision, named extenuating economic circumstances as a trigger.
Another tool the Central Bank has enacted is the currency repo, which allows it to balance the Russian ruble, but will not use reserve currencies.
You can share this story on social media: