Russian experts say falling oil price is short-term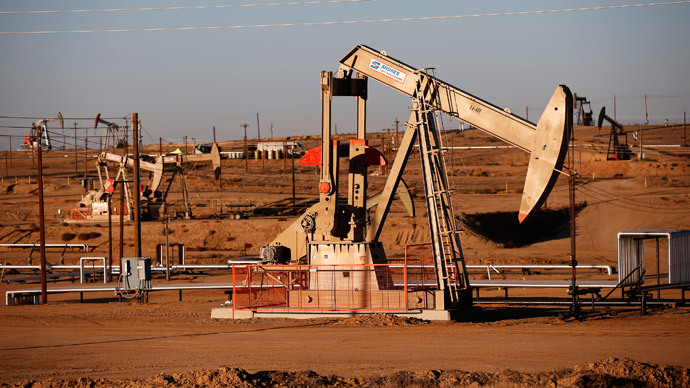 The oil price continued its downward trend on Wednesday, with Brent crude having lost about 25 percent of its summer high. However, Russian experts believe the fall is short-term.
Oil futures for West Texas Intermediate (WTI) dropped 2.12 percent in Wednesday trading to $77.12 per barrel, 4 p.m. Moscow time, which is a 28 percent fall from last year. Meanwhile, Brent crude dropped 2.79 percent to $82.26 per barrel, more than 25 per cent off this year's peak in June of $115 a barrel. The last time it sank so low was in 2010.
The decline comes as the US is pumping at its fastest rate in more than 30 years, Bloomberg reports. It is estimated to have increased inventories by 2.35 million barrels, according to a Bloomberg News survey released ahead of Wednesday's report by the Energy Information Administration.
On top of that Saudi Arabia published Monday its selling prices for December, which showed a huge discount for the US, the Financial Times says.
However, Russian analysts say they expect prices to recover soon.
There is heavy speculation on oil prices, as traders seek to profit from buying it cheaply and then sell it at a much higher price when it recovers, Aleksandr Pasechnik, head of the analytical department at Russia's National Energy Security Fund told RT.
"The 'paper oil' [oil trading - Ed.] is now dragging down the oil price, with the fundamentals likely to change soon and help prices recover," he said.
The military conflict in Syria, and trouble with huge oil producer Iran could escalate, which would also trigger a price rise, Pasechnik explained.
"Also the number of traditional oil deposits is declining and big oil companies will soon need to shift to more expensive projects like shale and Arctic deposits."
The analyst says that oil below $80/bbl would make US shale production unprofitable, as costs would eat away any profit.
Pasechnik thinks that OPEC will decide to cut supply at its November meeting, as at the moment more and more countries are saying the quotas should be cut.
Rustam Tankayev, a leading expert at the Russian Union of Oil and Gas Producers, says there is a clear explanation to what is happening in the market.
"According to the agreement between the US and Saudi Arabia, Saudi Arabia has temporarily stepped back from regulating oil prices on the world market, and as the leader of OPEC, it influenced the opinions of other OPEC countries, and they also refused to regulate prices. Thus, a stream of very cheap oil emerged and cheapened the price of oil on the world market," he told Russia's Business FM.
Tankayev added that it was rather a speculative than a real measure, because the supply and demand ratio on the world market has not fundamentally changed.
Analysts surveyed by Bloomberg also say low oil prices should not be considered the "new normal."
The oil price will rise above the level of $90/bbl, according to Standard Chartered estimates. The bank expects the price of Brent crude in 2015 will be around $105 and $115 in 2016.
You can share this story on social media: