Ruble-yuan settlements will cut energy sales in US dollars – Putin
Doing away with the US dollar and switching to ruble and yuan payments will significantly increase Russia and China's say in energy and financial markets, Vladimir Putin has said, adding that the first deals are already underway.
In short the President said the US dollar has no future, and that the ruble and the yuan have better long-term prospects.
"Payments in rubles and yuan are very promising. Switching to such a large-scale work means that the impact of the dollar on the global energy sector will objectively decline. This is not bad either for the global economy, or the world of finance and the world energy markets," Putin said at the APEC Business Summit in Beijing Monday.
"It will help expand our capabilities in mutual trade and influence both world financial and energy markets," the president said.
Using local currencies will speed up trade between the two countries who are aiming to reach $100 billion by 2015. Trade between Russia and China is already nearly $90 billion, and is scheduled to hit $200 billion in the next six years.
"The People's Republic of China is one of our key partners in the region. We will make greater use of settlements in our national currencies in our trade with China. We are already carrying out our first deals in rubles and yuan," Putin said.
Payments in national currency are planned particularly in trading oil and that Russian experts are currently assessing the possibility.
The two countries agreed on a currency swap worth up to $25 billion on October 13.
Moscow and Beijing aim for a broader use of the yuan and the ruble in mutual settlements across industries, including defense, telecoms, energy, and mining, possibly by one of Russia's major companies, according to Putin.
Russia's second biggest bank, VTB, has already begun to reorient business towards China and is working with Chinese regulators to remove restrictions to allow ruble transactions.
"Our contact with the leadership of China's biggest banks shows they share this interest. This is consistent with the plan for China to bring the yuan to the next level and make it a hard currency," VTB head Andrey Kostin said at the summit, as quoted by RIA.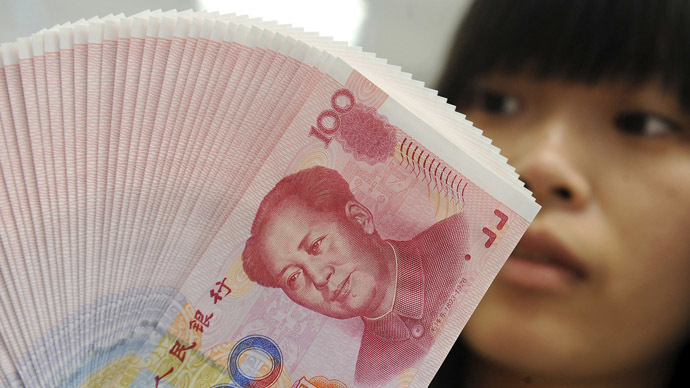 A switch to domestic currencies is a huge move for Russia and China as both countries are members of the BRICS Bank which was established earlier this year to try and challenge the global dominance of the US dollar and such global lenders as the IMF and the World Bank.
READ MORE: BRICS countries near development bank deal to rival IMF, WB
China and Malaysia also announced a new bank that uses the yuan as a reserve currency, which means the dollar stands to lose its regional stronghold.
'New level of cooperation'
The currency swap is just a notch in the belt in developing Russia-China economic ties. The two have grown closer over Russia's disillusionment with the West over the Ukraine crisis and sanctions.
"Cooperation between Russia and the Asian-Pacific nations is of the utmost importance to us," Putin said.
Symbolic of the deepening rapport was the signing of the second major gas deal in six months, which has the potential to make China Russia's largest energy customer.
Putin named China as Russia's biggest regional partner, and even offered the country stakes in Russian energy projects.
"We are also examining possibilities for our Chinese partners to acquire stakes in some of our biggest production assets," Putin said.
On Sunday, Russia's oil giant Rosneft and China National Oil and Gas Exploration and Development Corporation signed an agreement on the acquisition of a 10 percent stake in Vankorneft, a Rosneft subsidiary that develops oil in Russia's Eastern Siberia. Rosneft has also offered China a share in its second-largest oil field, Vankor, which is estimated to have reserves of 520 million metric tons of oil and 95 billion cubic meters of natural gas.
Russia may opt to include China in the big oil and gas projects in the Far East, namely on Sakhalin Island, north of Japan. Among the international partners is Japan which has a 30 percent stake in the Sakhalin-1 project and a 22 percent in the Sakhalin-2.
You can share this story on social media: