​Putin, Xi Jinping sign mega gas deal on second gas supply route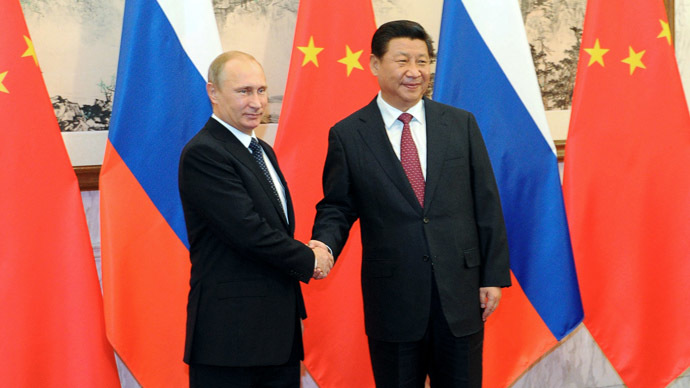 President Vladimir Putin and Chinese leader Xi Jinping have signed a memorandum of understanding on the so-called "western" gas supplies route to China. The agreement paves the way for a contract that would make China the biggest consumer of Russian gas.
Russia's so-called "western" or "Altay" route would supply 30 billion cubic meters (bcm) of gas a year to China.
The new supply line comes in addition to the "eastern" route, through the "Power of Siberia" pipeline, which will annually deliver 38 bcm of gas to China. Work on that pipeline route has already begun after a $400 billion deal was clinched in May.
READ MORE: Putin breaks ground on Russia-China gas pipeline, world's biggest (VIDEO)
"After we have launched supplies via the "western route," the volume of gas deliveries to China can exceed the current volumes of export to Europe," Gazprom CEO Aleksey Miller told reporters, commenting on the deal.
Speaking to journalists on the eve of his visit to Beijing, Putin was optimistic about prospects for the new gas deal with China.
"We have reached an understanding in principle concerning the opening of the western route," Putin said. "We have already agreed on many technical and commercial aspects of this project, laying a good basis for reaching final arrangements."
The "western" route deal is one of the 17 agreements signed at the Sunday meeting between Putin and Xi.
They also included a framework agreement between Gazprom and China's CNPC on gas deliveries and a memorandum of understanding between Gazprom and another Chinese energy giant, CNOOC.
Gazprom and CNPC have also signed a preliminary agreement for China National Oil and Gas Exploration and Development to take a 10 percent stake in Russia's Vancorneft.
Among the business issues discussed by Putin and Xi at their fifth meeting this year was the possibility of payment in Chinese yuan, including for defense deals military, Russian presidential spokesman Dmitry Peskov was cited as saying by RIA Novosti.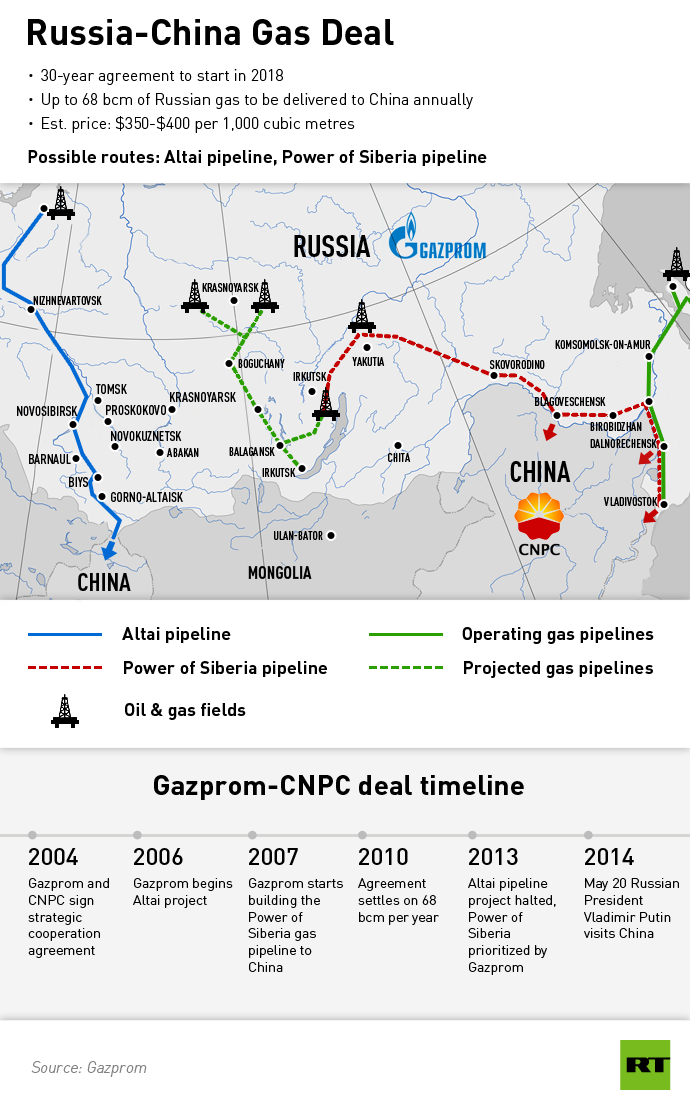 Brendan P. O'Reilly, China-based writer and educator from Seattle, told RT that transport to China was extremely easy:

"One of the most attractive things about Russian gas for the Chinese is that it can be transported over land," he said. "Most of China's energy resources are imported via sea through the Pacific, and this route is slightly threatened by the American military presence now in the Pacific. Of course there're a lot of territorial disputes right now between China, Japan, and various other countries in the East China Sea and the South China Sea. So basically by strengthening energy ties with Russia, China can avoid the more dangerous maritime route."

"Russia stands to benefit from this development with China very much because right now the vast majority of Russian gas is being exported to Europe. So Russian having a second large buyer improves the situation of supply/demand for Russia by creating more demand in the east."
You can share this story on social media: