Putin breaks ground on Russia-China gas pipeline, world's biggest (VIDEO)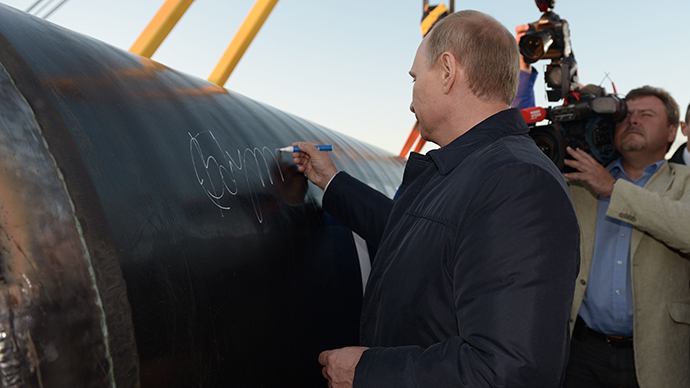 Russian President Vladimir Putin and Chinese Vice Premier Zhang Gaoli have launched the construction of the first part of Gazprom's Power of Siberia pipeline - which will deliver 4 trillion cubic meters of gas to China over 30 years.
"The new gas branch will significantly strengthen the economic cooperation with countries in the Asia-Pacific region and above all - our key partner China," Putin said at the ceremony outside the city of Yakutsk - the capital of Russia's Republic of Yakutia on Monday.
Both President Putin and Vice Premier Zhang Gaoli signed the freshly-welded pipeline in a time-honored Russian tradition. The 'Power of Siberia' was welded together by workers from Chayanda gas field, overseen by CEO Aleksey Miller.
URGENT: Putin, Chinese VP launch Russia-China gas mega-project - 4tln cm over 30 yrs http://t.co/88YjbryxUFpic.twitter.com/2xJ5Kp0SsD

— RT (@RT_com) September 1, 2014
"Gazprom is always a reliable supplier of gas to its customers - which also applies to the 'Power of Siberia," Miller said.
The 3,968 km pipeline linking gas fields in eastern Siberia to China will be the world's largest fuel network in the world. Both Putin and Vice Premier Zhang Gaoli have called the project the world's largest construction project, as investment from both countries will be more than $70 billion.
"The gas pipeline 'Power of Siberia' will increase energy security and ensure Russia's ability to fulfill export obligations," Putin said in the opening remarks.
Read More: Russia and China seal historic $400bn gas deal
Starting in 2019, Power of Siberia will pump gas from Siberia to China's populous northeast region as well as to Russia's Far East. The Chinese side will start the construction of its part of the pipeline in the first half of 2015, the Vice Premier of China said.
Last year, China consumed about 170 billion cubic meters of natural gas and expects to consume 420 billion cubic meters per year by 2020. Europe still remains Russia's largest energy market, buying more than 160 billion meters of Russian natural gas in 2013.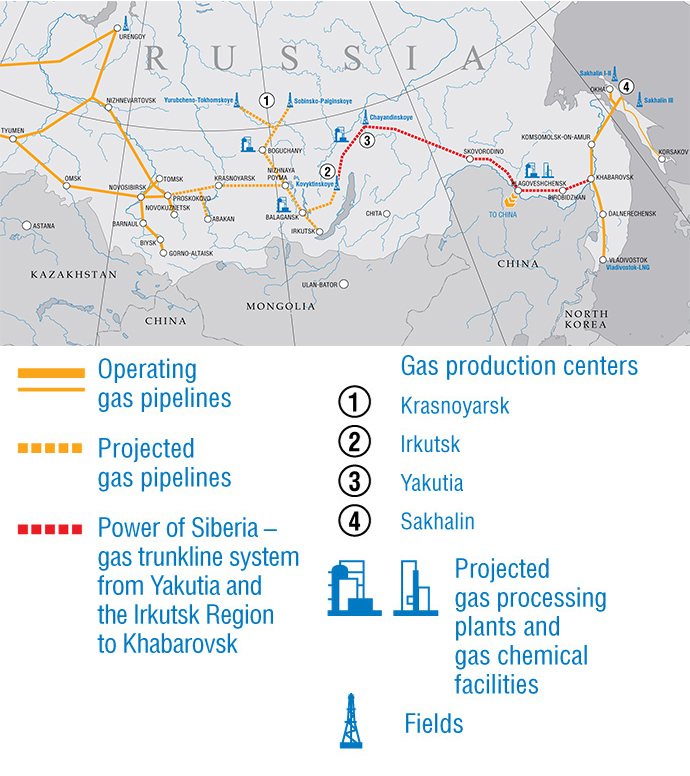 "Once we create a gas pipeline network here in the Far East and Siberia, we will be able to connect European pipeline system to the East. And this, in terms of export opportunities and expanding Russia's 'gasification', is very beneficial. Depending on the situation in world markets, we can more effectively implement gas flows- either more to the West or to the East," Putin told students at North-Eastern Federal University earlier on Monday.
Running from the Chayanda gas field in the Republic of Yakutia, the cost of construction is estimated at more than $20 billion (770 billion rubles), which includes other investment in the region of $7.5 billion (283 billion rubles). Russia's largest steel pipeline manufacturer, TMK, will provide materials for the project.
The gas pipeline will become a common transit center for gas production centers in the Yakutia and Irkutsk regions.
The first stage of the project will be to transport gas from the Chayanda deposit in Yakutia and connect to the town of Blagoveshchensk on the Chinese border. The 968 km pipeline should be completed by 2018.
The Chayanda field, which will begin production in 2015, is estimated to have reserves of 1.2 trillion cubic meters in gas and 93 million tons of liquid hydrocarbons. Each year the field is expected to produce up to 25 billion cubic meters of gas and at least 1.5 million tons of oil.
Putin also said that China can become a shareholder in the Vankor oil and gas fields in the Krasnoyarsk region in Eastern Siberia. China will enter into a strategic relationship with Rosneft, Russia's largest oil company, which owns the field.
The area is estimated to hold reserves of 520 million metric tons of oil and 95 billion cubic meters of natural gas. It has been in operation since 2009 and last year produced 21.4 million tons of oil and oil condensate.
"We generally take a very careful approach to the approval of our foreign partners, but of course, for our Chinese friends there are no restrictions," Putin said.
In May, Russia's state-run Gazprom signed a 30-year gas deal with China's CNPC valued at $400 billion.
You can share this story on social media: