​BRICS countries near development bank deal to rival IMF, WB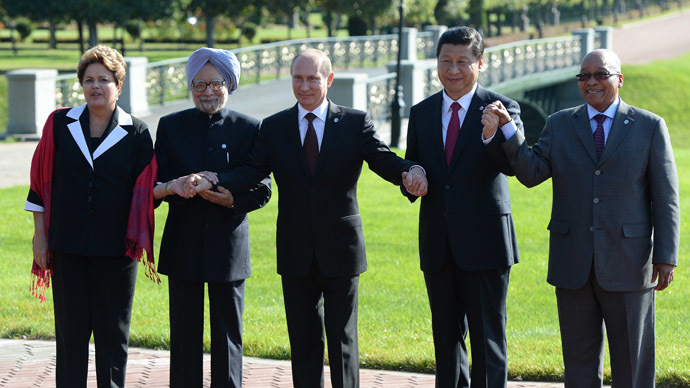 The emerging economies of Brazil, Russia, India, China and South Africa, are a couple of days from agreeing the $100 billion BRICS development bank, as well as a $100 billion currency pool. It could challenge global lenders like the IMF and World Bank.
The bank will be called the New Development Bank, and will provide finance for infrastructure projects. Its creation will meet the needs of emerging and poorer economies according to Russian Finance Minister Anton Siluanov.
In a speech Wednesday he confirmed the funding would be divided equally, Russia will contribute $2 billion in initial capital for the BRICS bank over seven years.
The bank will start with $10 billion in cash and $40 billion in guarantees. The $50 billion will be eventually built up to $100 billion.
The bank will be able to start lending in 2016, the minister says.
The final decisions concerning the creation of the bank are expected to be made by the BRICS leaders at a summit in Brazil on 14-16 July.
Apart from the BRICS countries other UN members may also participate in the bank's development, but their total share won't exceed 45 percent.
The location of the headquarters is still not decided, but Siluanov said the two favorite cities are Shanghai and New Delhi.
BRICS leaders are also expected to sign an agreement to establish an additional $100 billion fund to steady the currency markets.
"We have reached an agreement that, in the current conditions of capital volatility, it is important for our countries to have this buffer a so-called "mini-IMF"- a financial organization which could quickly react to capital outflow, providing liquidity in hard currency, in particular in US dollars," Siluanov said.
The need arose after the long inflow of cheap dollars which fueled a boom in the BRICS countries for a decade reversed into a sharp outflow in 2013.
Even though the new bank will be a small rival to the World Bank which has capital of $223 billion, or the International Monetary Fund, it will serve as a reminder to the US of the shift in the global economy towards the developing world.
Currently BRICS countries make up over 40 percent of the world's population and account for about 20 percent of global GDP.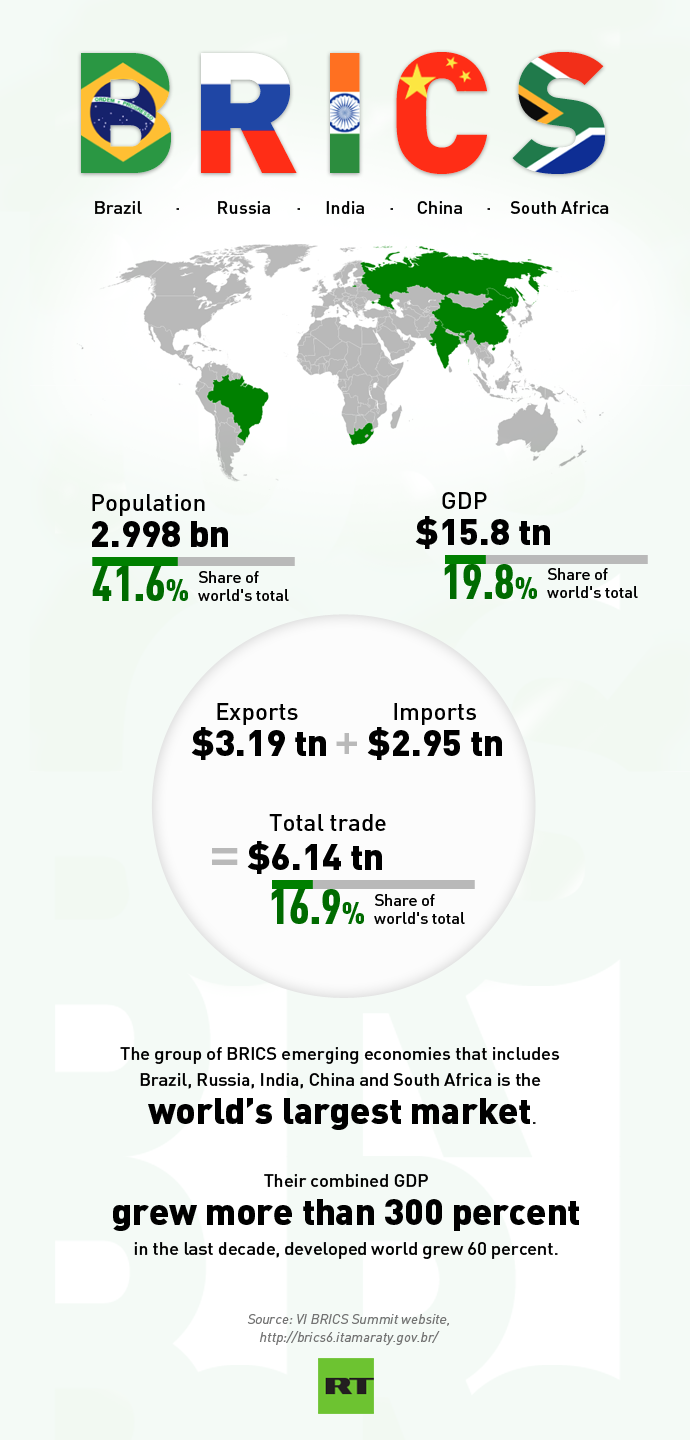 You can share this story on social media: