Shanghai favorite to become BRICS bank HQ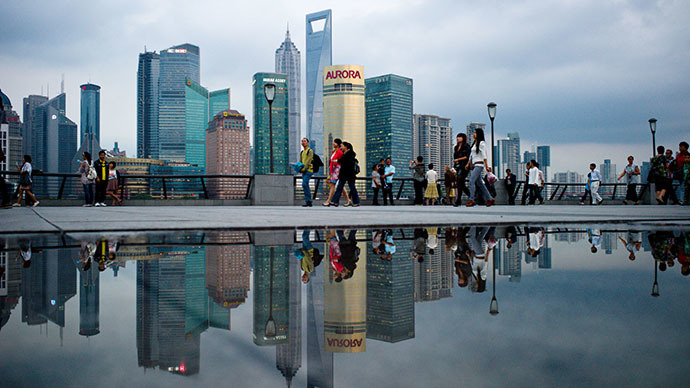 Shanghai is considered to be the frontrunner between Russia, China, India and South Africa to become home to the new BRICS bank, media reports. The bank is an attempt by emerging economies to challenge the US-based global lending institutions.
Four of the BRICS countries – China, Russia, India and South Africa are putting forward cities to host the new financial institution. However Brazil is not nominating a city.
The choice of city is expected to be made at the leaders' summit in Brazil on July 15, but Shanghai is seen by analysts as the firm favorite, says the Financial Times. The leadership of the bank will be decided in the same month, and will be likely rotated every five years.
The bank is scheduled to be officially launched at the same summit.
China is starting a separate bilateral institution in Asia which is a rival to the Asian Development Bank, which is considered to be over influenced by the US and its allies.
The Research Center of Shanghai's Fudan University says China has a strong advantage in terms of economic and political stability compared to India and Russia.
China is the world's second largest economy, with the largest trade and investment volumes, the research report added.
On top of that, "China's total bank-scale ranks among the highest in world, demonstrating its strong ability to resist risks," the Fudan University report concluded.
Each BRICS member is expected to put an equal share into establishing the startup capital of $50 billion. BRICS officials also plan to set up a joint $100 billion emergency swap fund for financial crises available only if needed to meet the bank's obligations. To compare, the World Bank has capital of $223 billion, and most of it is callable.
Despite initially being a small rival the World Bank or the International Monetary Fund, it will serve as a reminder to the US of the shift in the global economy towards the developing world.
"This is a considerable group of countries from around the world that have come together to create something without US or European involvement, this is significant," the FT quotes Oliver Stuenkel, Assistant Professor of International Relations at the Getulio Vargas Foundation in Sao Paulo.
Since 2010 the US Congress has received proposals to increase the influence of emerging nations in the International Monetary Fund; however the program has not yet faced further development.
"Congress is not ratifying [the changes] and that has caused a certain amount of disquiet and unease among the BRICS countries," said Jose Graca Lima of Brazil's external affairs ministry.
"This arrangement [the BRICS bank and reserve fund] is not a response to that [but] it is an indication that it is possible among the BRICS to create mechanisms to realise certain objectives," Graca Lima added.
You can share this story on social media: