Asia eyes Russian investment as Western ties deteriorate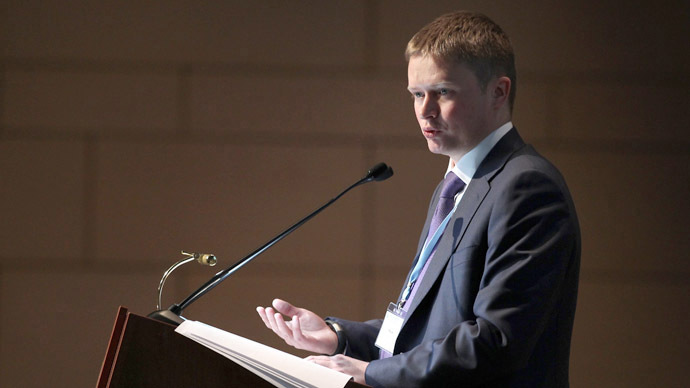 ​Asian business is keen to snatch development opportunities in Russia as economic ties with the West are weighed down by the Ukraine crisis, the Deputy Chairman and the Board member of Russia's Vnesheconombank Aleksandr Ivanov, told RT.
"It's [the interest of Asian investors in Russia -RT] quite substantial and some of the key players in Asia have a lot of money that they need to invest," Ivanov explained.
He was talking ahead of next week's 37th Annual Meeting of the Association of Financing Sustainable Development Institutions in Asia and the Pacific (ADFIAP) in Moscow.
Asia investment will likely be further spurred by a special economic zone (SEZ) in Russia's Far East city of Vladivostok, which will be set up by June 15, the Kremlin announced Tuesday.
"For them [Asian countries] the Far East of Russia is a natural spot where they can invest their resources, because it's their neighbor. And everybody wants to see their neighbors well and prosperous," Ivanov told RT.
Asian investors are especially interested in infrastructure development projects and the gas and oil industry.
As a result, Moscow has been getting more investment from Asia. In 2012, Russia and China agreed to establish a Russian-Chinese investment fund and in 2013 China's non-financial direct investment into Russia's economy was $4.1 billion. Russian investment in China was $847.7 million by the end of 2013 with 2,452 projects, many related to the oil and gas industry, and other involving engines and helicopters.
Vnesheconombank (VEB) which acts on behalf of the Russian government to develop international cooperation and service Russian foreign debt, has fallen into closer orbit with its more pragmatic and less political eastern neighbors.
So far they [Asian business partners] are not politically biased, at least that's what we see in South Korea, Japan," Ivanov said, adding that Asia is financially ready to continue investment in Russia.
Overall in 2012, Russia received a record $94 billion in foreign direct investment with the help of big deals from Japan's Bank for International Cooperation, the Korea Investment Corporation, as well as investment from France, Italy, India, and others.
Ivanov has been Deputy Chairman and Member of Supervisory Board at Vnesheconombank since 2012 and oversees capital fundraising both within and outside of Russian markets.
Russian interest
Many Russian companies have made the first move and begun to re-orient their business towards booming eastern markets, and away from Europe and the US.
Russia's oil giants, Rosneft and Gazprom, have both increased their presence in the east in the past year.
Rosneft has signed a landmark oil deal with China's National Petroleum company that could gross $270 billion over 25 years and has also partnered with Japan's largest energy explorer, INPEX, to explore Magadan offshore oil blocs.
Gazprom, Russia's biggest natural-gas producer, has increased its presence in Vietnam and also may start issuing yuan-dominated debt.
Two other state-owned heavyweights, Russian Railways and Norilsk Nickel, also plan to woo foreign funds from Asia for projects.