'Special Comrades' Russia and Vietnam to double trade by 2015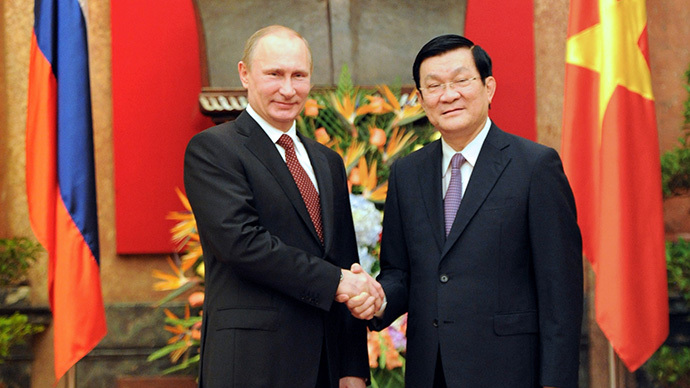 Vietnam is a step closer to joining the free trade zone between Russia, Kazakhstan, and Belarus. During President Putin's trip to Hanoi, Russia and Vietnam signed 15 cooperation agreements expected to double trade to $7 billion by 2015.
"We have agreed to speed up the negotiation process so as to conclude this agreement in the near future," Vietnamese President Truong Tan Sang about joining the Russian-led Customs Union after talks with Russian President Vladimir Putin in Hanoi on Tuesday.

Vietnam "has always considered Comrade Putin our very close friend," Tan Sang said.

Russia hopes the free trade zone turnover to double to $7 billion by 2015 and reach $10 billion by 2020, Putin wrote in a letter published in Vietnamese newspapers on the eve of his official visit
In 2012, bilateral trade between Russia and Vietnam climbed 20 percent to $3.66 billion.
Relations between Russia and Vietnam have a "special character," the Russian President said in the capital of Hanoi, where he is on an official trip to boost trade cooperation. He also participated in the opening ceremony of Russian cultural days in Vietnam.
Putin mentioned potential future projects in mechanical engineering, aviation, space, as well as humanitarian fields.
Russia exports machinery, fertilizers, and metals to Vietnam and imports clothing, agricultural products, and electronics.
The IMF predicts Vietnam to have GDP growth of 5.3 percent in 2013, opening many opportunities for market and trade development.
Putin went ahead with the trip despite concerns over safety as the region continues to struggle with the devastating fallout of Typhoon Haiyan.
Putin arrived in Vietnam after holding meetings with Kazakhstan's President Nursultan Nazarbayev in the Russian city of Yekaterinburg and will visit South Korea on Wednesday.
Putin has been rounding up ex-Soviet states to join Russia in a Eurasian block with promises of lower gas prices and other trade perks, and is now extending this invitation further eastward. India has expressed interest, and Armenia has said it will join the Customs Union.
The leaders have not touched upon visa regulations. Currently Vietnamese citizens need a visa to enter Russia, but Russians do not need a visa to visit Vietnam for up to 30 days.
Fueling energy ties
Russia is also interested in developing Vietnam's hydrocarbon resources, and both state-owned oil and gas companies Rosneft and Gazprom will increase their presence in Vietnam this year, supplying the country with liquefied natural gas from Russia's Far East fields.
Rosneft plans to jointly develop offshore oil and gas reserves in cooperation with PetroVietnam, Vietnam's National Oil and Gas Group in the Pechora Sea in the Arctic.
Last summer Rosneft signed a production sharing agreement with PetroVietnam on a Vietnamese offshore block.
In October Gazprom teamed up with PetroVietnam over offshore gas production with recoverable gas reserves of about 36 billion cubic meters of gas and 15.2 million tons of gas condensate.
Gazprom also plans to work with PetroVietnam to refine oil onsite at its processing plant, which could produce 8 million tons of oil per year with an estimated value of up to $4 billion.
Vietnam plans to commission Russia's State Nuclear Energy Corporation Rosatom to build Vietnam's first nuclear power plant in the province of Ninh Thuan, which will begin operations in 2023.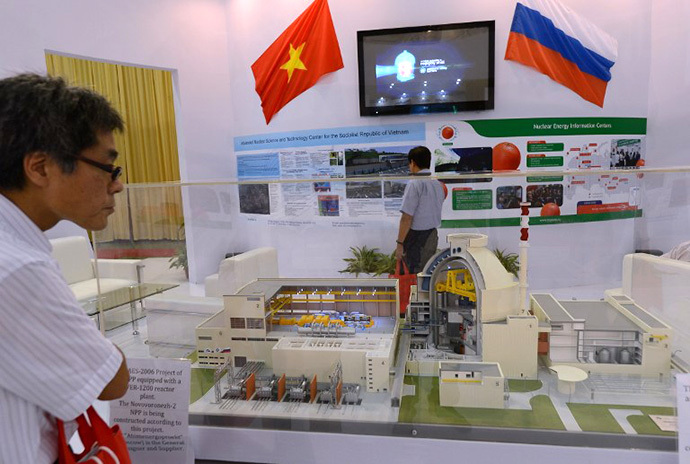 You can share this story on social media: