Going nuclear: Russia to construct first $10bn facility in energy-hungry Jordan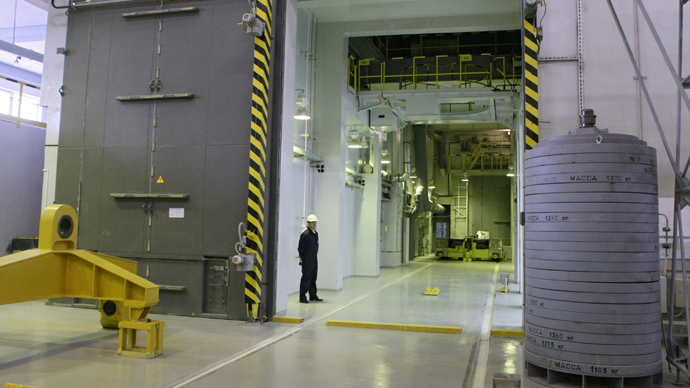 Russia's State Nuclear Energy Corporation Rosatom has won a contract to build and operate Jordan's first nuclear power plant. The $10 billion contract is one of the world's first reactor projects since the disastrous Fukushima leak of 2011.
The chairman of the Jordan Atomic Energy Commission (JAEC) Khaled Toukan said Atomstroyexport (ASE), Rosatom's international arm, will construct, and possibly operate, the plant which will provide 12 percent (2000 megawatts) of the kingdom's energy needs, and is due for completion in 2020.

ASE will finance 49 percent of the project and Jordan will pay for 51 percent and take a controlling share.
A  or build-own-operate (BOO) scheme will be used to construct the two separate 1000-megawatt reactors 25 miles from the capital Amman, the International Business Times reported.

ASE used the same business model to finance a plant in Turkey, where it is building a 4.8 gigawatt facility worth $20 billion.

Russian President Vladimir Putin is expected to make an official state visit to Jordan in November, and will meet with Jordan's King Abdullah II.

Jordan has few natural resources and imports nearly 98 percent of its energy and electricity. It has been experiencing a severe energy crisis. Price hikes have brought massive protests to the streets and also triggered several, sometimes life threatening, blackouts.

The cost of buying diesel and fuel from abroad has risen above $5 billion over the last two years or approximately 15 percent of Jordan's gross domestic product. Previously Jordan imported cheap gas from Egypt, which is no longer a viable option due to repetitive attacks on the pipeline.

Under a $2 billion IMF loan Jordan has been advised to cut subsidies on electricity, but has been given slight leeway as the recent arrival of Syrian refugees has further strained the country's energy crisis.

State-owned electricity firm NEPCO currently sells electricity at about half the price is produces, buffered by large government subsides. The government plans to raise electricity prices by 18 percent over the next year years to balance out the subsidy gap, the Jordan Times reports.
Foreign investment in power plants is high, as they produce over 60 percent of the kingdom's power.

The energy supply disruptions have forced the resource-poor kingdom to push for energy independence, and have re-sparked interest in nuclear energy.

By 2030, Jordan hopes to source 30 percent of its energy from nuclear facilities, a goal set out in 2007 when Jordan first set up a nuclear energy strategy committee. 
"At the end of the day, electricity prices will not only be much lower than fossil fuels, they will be competitive with oil shale, natural gas and renewable energy," Toukan said.

Jordan's nuclear plan is contrary to other countries plans to wind-down their nuclear reactors in the wake of the Fukushima leak.

"Japan's Fukushima Daiichi plant in 2011 demonstrates the consequences of technical and human failures in the sector," the Brookings Institute, a Washington DC-based think tank, said in a 2012 report that analyzed Turkish, Jordanian, and UAE nuclear ambitions.
The Middle East, Southeast Asia, and Latin America are all looking to expand their energy sectors, as consumption grows at nearly 7 percent per year, Ilya Platonov, CEO of Nuclear.ru, told Vedomosti.

Nuclear energy will be a cheaper alternative to thermal energy or gas, but is risky.

You can share this story on social media: