Germany's 'green energy revolution' costing billions
In the wake of Fukushima, Angela Merkel said Germany would phase out nuclear power by 2022 and subsidize renewable energy. Average German consumers can't afford the 'green' subsidies as they drive up energy prices and suck profits from energy companies.
In the next 27 years, Germany will spend 550 billion euro on renewable technologies like wind and solar, in the hope of attaining 80 percent renewable energy by 2050.

"It's being sold on the message it's either wind energy or radioactive catastrophe, this plays on fear, and makes money for wind energy providers," Petra Dahms, anti-wind power activist, told RT.

According to the Cologne Institute for Economic Research, Germany's energy costs are 40 percent higher than in neighboring France and the Netherlands.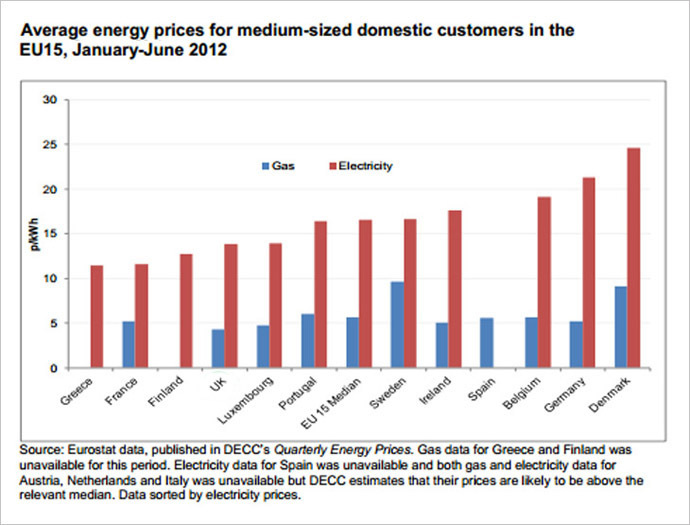 Germany increased its effort to ditch nuclear power after the 2011 Fukushima disaster.
E.ON Germany, the country's top power supplier, was hit hard after the disaster, and has been forced to divest companies. In the first half of 2012, the Dusseldorf-based company lost 31 million euros. In the first half of 2013, the electricity, natural gas, oil, and coal trader lost 50 percent in profit optimization from its power plants, which cost the company 641 million euro.  Since 2007, the company says it's lost more than 75 percent market share.
In the beginning of October, E.ON announced it plans to invest in a $163 billion Baltic Sea wind farm in Sweden.  
RWE, also based in Dusseldorf, was forced to slash over 11,000 jobs and profits plummeted as it lost money on consumer sales.
"Our industry is suffering. Big companies may just decide it's too expensive and may decide to relocate," Frank Schaffler, from the Free Democratic Party, told RT. 
Utility values on global stock exchanges have plummeted. In 2008 they were valued at over $3 trillion, and now market capitalization is nearly half that.
Consumers are saying the benefits aren't being passed on.
"One day I saw it almost doubled, I can't understand how this bill can be so expensive for two people," Aminta Seck, a single mother, told RT from her Berlin home. 
"Responsibility lies with the government and the power companies, they are so expensive. One of the reasons for price rises is the subsidies being payed out for solar and wind energy," said Seck.
Germany's subsidises renewables to the tune of about $16 billion per year, an innovation that comes at a cost to consumers and industry. After her party's election victory (link) Merkel said she and her cabinet would be reviewing the country's subsidy program.

The UK has set itself apart from its nuclear-wary neighbors, and has committed to a deal with Chinese and French partners to build 2 pressurized water reactors in southern England on Monday, which Prime Minister David Cameron hopes will offset soaring energy prices (link). The deal makes it the first European country to promise state funding (nearly $64 million) for a nuclear program.

You can share this story on social media: