Oil companies begin 'fracking' in China's most dangerous earthquake zone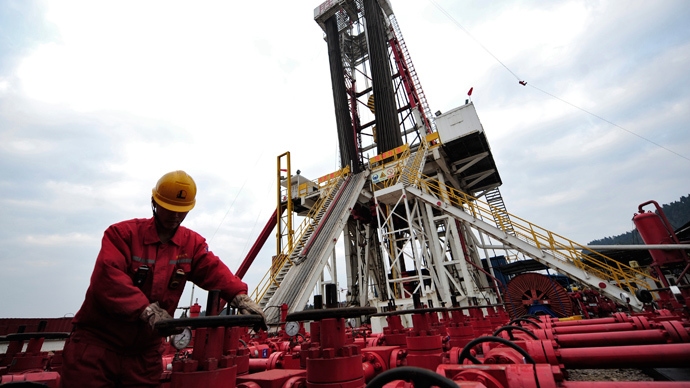 The Chinese want to join the shale gas revolution, even if it means drilling for oil in China's earthquake hot bed in the Sichuan region, where nearly 70,000 died in an earthquake in 2008.
Royal Dutch Shell Plc and China National Petroleum have started 'fracking' operations in the province.
China hopes to boost annual shale gas production to 6.5 billion cubic meters by 2015, and reserves are estimated at about 1,115 trillion cubic feet, according to the US Energy Information Administration, higher than the estimated 665 trillion gas reserves on American soil.
Europe's largest oil company plans to invest $1 billion per year in China's shale gas industry, as part of its goal to increase global output to four million barrels of oil and gas by 2017-2018, up from current levels of 3.3 million.
Drilling for oil in the Longmenshan mountain range, where India and Asia meet, could increase tremors in the already highly-sensitive area.
The hydraulic fracturing, or 'fracking' process of extracting oil from the earth is invasive and is believed by many to be a direct earthquake instigator.
Extraction by 'fracking' involves pumping millions of gallons of water and chemicals into the ground, which creates excess hydro waste, which over time, causes tectonic stress.
"We do detailed structural analysis as a routine part of our pre-drill evaluation," Shi Jiangtao, a Shell spokesman in Beijing, said in an e-mail to Bloomberg. "This means that we evaluate the geology by using seismic, surface geology, nearby well data, etc."
There is strong correlative evidence between deep underground wells and nearby earthquakes, both in the US and China.
An investigation by the US Geological Survey found that 'fracking' and quakes aren't directly related, but noted, "at some locations the increase in seismicity coincides with the injection of wastewater in deep disposal wells."
Human-induced earthquakes would be controversial in a region which experienced one of the deadliest earthquakes in China's history, which killed nearly 70,000, including 5,335 school children in a 2008 quake in Wenchuan, Sichuan region.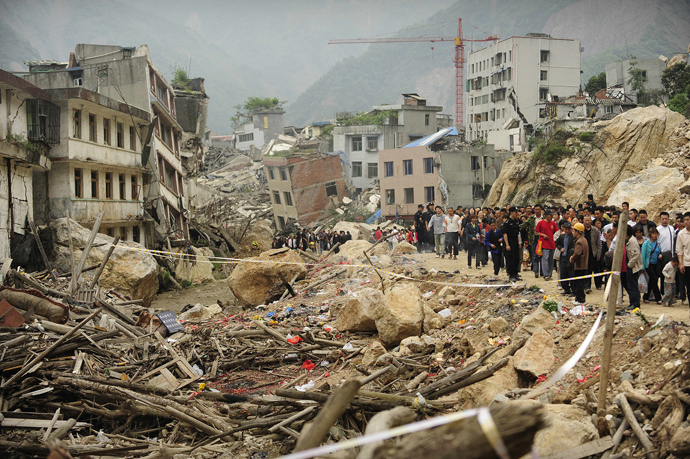 The boom in oil and gas 'fracking' has led to jobs, billions in royalties and profits, and even some environmental gains.
The shale industry boom in the US may add as much as $690 billion to GDP and create 1.7 million jobs by 2020, according to a study by McKinsey and Co. The oil boom has boosted domestic employment, company profits, and GDP in the US, and China is eager to follow suit, even it means drilling in earthquake territory.
Royal Dutch Shell Plc, China National Petroleum, and China Petrochemical Corp all currently have drilling operations in the region.
Environmental concerns
Geologists also raise concerns over the amount of water used in 'fracking', and whether China's shale ambitions could run the water supply dry.
China, home to roughly 20 percent of the world's population, only controls 6 percent of the world's fresh water supply, and often experiences serious water shortages. Adding 'fracking' to this equation could only further exacerbate the problem. Toxic chemicals used in fracking alter the drinking water.
Shale gas is often found 'in the middle of nowhere', places that are already prone to water shortages.
Environmentalists in China have also voiced concern over contamination and pollution brought on by 'fracking' waste disposal.
Shell's earnings hit hard by shale gas
Royal Dutch Shell's earnings fell $1.1 billion in Q2, year on year, blaming poor performance on higher operating costs, disruptions in Nigeria, and a weakening Aussie currency. Total revenue fell by 5.6 percent.
Net income fell by 57 percent in the second quarter, which was partly due to $2.2 billion the company had to write off on shale exploration and development in the United States.
China's eagerness to exploit shale gas opens an opportunity for foreign investors looking for a start-up opportunity.
"In the next 18 months we expect to see five major project start-ups, which should add over $4bn to our 2015 cash flow," said Peter Voser, CEO of Shell, said in relation to quarterly results.
Shell is planning to sell four more oil blocks in Nigeria, and is eyeing selling other assets in the Niger Delta, where oil theft and violence has stunted revenue.
It has already sold eight Niger Delta licenses for a total $1.8bn since 2010, but has publicly announced it remains committed to operations in Nigeria.
You can share this story on social media: