US and Vietnam sign nuclear technology deal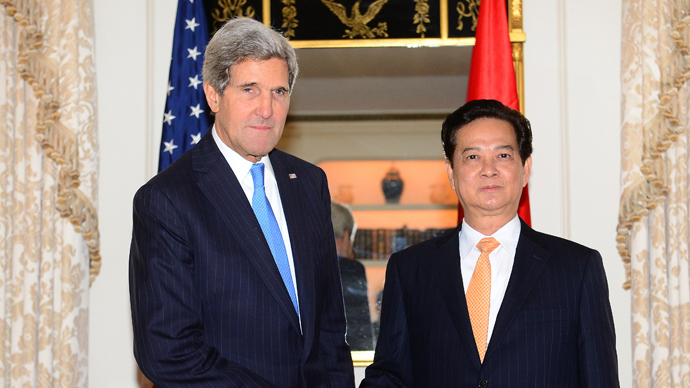 The US and Vietnam have signed a deal allowing the US to transfer nuclear technology to the south-east Asian country. The move paves the way for future US investment in the industry boosting America's strategic presence in the region.
The US-Vietnam Civil Nuclear Co-operation Agreement, otherwise known as the '123 Agreement', will allow US industries to tap into Vietnam's nuclear power market as part of the US push to strengthen both economic and security ties with Vietnam in the face of China's growing influence.

"This agreement will create numerous opportunities for our businesses," US Secretary of State, John Kerry told Vietnam's Foreign Minister Pham Binh Minh while attending the ASEAN summit in Brunei. "Obviously our nuclear cooperation is quite significant." 
Annual growth in the country currently stands at 5 per cent and, after China, the country has the second-largest market for nuclear power in the region. Vietnam has also been working alongside Russia to build its first nuclear plant in 2014 in the south-central province of Ninh Thuan, aiming to finish it by 2020. 
Ninh Thuan will also be the site of a proposed second plant as the country has signed an agreement with Japan. Two reactors will likely become functional in 2014-2015.  
Under the terms of the agreement, Vietnam will not be permitted to either enrich or reprocess nuclear materials of US origin, according to the US State Department.
China's claims over the South China Sea have contributed to heightened tensions with Vietnam, and the US hopes to forge strategic ties with the country to readdress the power balance in the region and act as a counterweight to China. 
However, the US has also expressed concern at Vietnam's human rights record on account of harsh worker conditions and treatment of government critics. In May and June this year, three bloggers were arrested on anti-state activities, with reports stating that at that point some 38 activists had been arrested overall. 
"Vietnam is actively taking steps now toward development of a robust domestic infrastructure to support a nuclear energy program," a US official told Reuters. 
The proposed deal will have to be passed on to US President Barack Obama for approval after having been signed off by both the US Energy Secretary and the Nuclear Regulatory Commission. After Obama signs the deal, it will go to Congress, which will have 90 days to consider it.