Obama's absence at APEC summit regretted by Singapore PM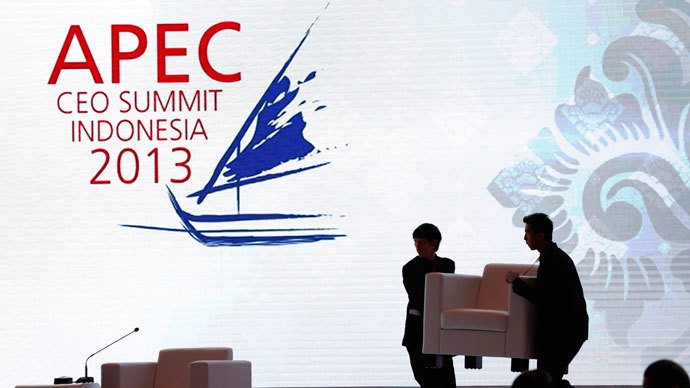 The cancellation of US President Barack Obama's APEC summit visit was commented on by Singapore's Prime Minister on Sunday, who said that global leaders wanted to see "a US president who is able to travel and fulfill his international duties."
"Obviously we prefer a US government that is working to one that is not. And we prefer a US president who is able to travel and fulfill his international duties to one who is preoccupied with national domestic affairs," Singapore Prime Minister Lee Hsien Loong said on Sunday at the meeting which Obama was previously scheduled to address.
US Secretary of State John Kerry will take part in the Asia-Pacific Economic Cooperation (APEC) summit instead of President Obama, who earlier canceled his visit reportedly due to the US government shutdown.

Leaders of APEC countries, whose economies account for more than half of global GDP, have gathered on the Indonesian island of Bali for the economic summit which is set to kick off on October 7.
More than 1,200 delegates from 21 countries are participating in the annual gathering of APEC this year. The 2013 summit's theme is "Resilient Asia-Pacific, Engine of Global Growth."
The annual APEC forum, which may be the region's most important economic gathering, will be held for two days, ending on October 8.
The Russian delegation is headed by President Vladimir Putin, who is expected to speak on the topic of 'New sources of sustainable and long-term economic growth in the Asia-Pacific region.'
A series of diplomatic meetings is scheduled to take place during the summit, including talks between Russian Foreign Minister Sergey Lavrov and US Secretary of State John Kerry. They are expected to discuss various issues ranging from the Syrian conflict to the impact of the US government crisis on international programs.
In the framework of the summit, ministers from the Pacific Rim economies are expected to discuss the ongoing Trans-Pacific Partnership and Regional Comprehensive Economic Partnership free trade negotiations ahead of a World Trade Organization (WTO) meeting in Bali in December. The process is aimed at creating a free trade zone covering the greater Asia-Pacific region.
There are grounds to think that people believe more in the existence of UFOs than the benefits of free trade, Indonesian Trade Minister Gita Wirjawan said on Sunday.  For developing countries - where some industries lack the competitive sophistication of those in wealthier countries - it is easier to argue for free trade when there are visible signs of its benefits such as factories and jobs, he said.
The APEC summit also offers Indonesia a chance to attract the foreign investment it needs to help modernize its infrastructure.
APEC was established in 1989 and consists of Australia, Canada, Chile, China, Hong Kong, Japan, South Korea, Mexico, New Zealand, Papua New Guinea, Peru, Russia, Taiwan, the United States, and seven members of the Association of Southeast Asian Nations (ASEAN) - Brunei, Indonesia, Malaysia, the Philippines, Singapore, Thailand, and Vietnam.