China to test economic freedom in Shanghai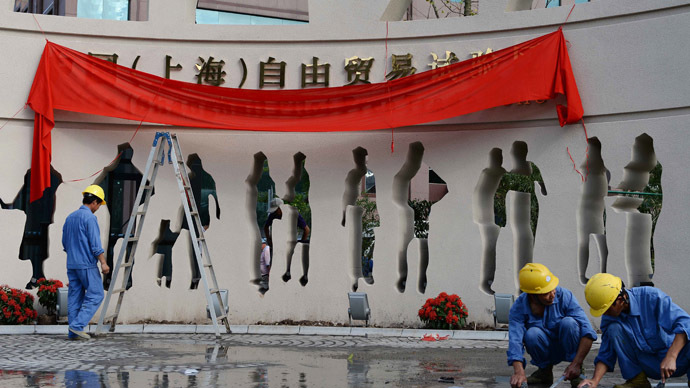 China launched its first experimental economic free trade zone in Shanghai, seeking to transform the city into an international financial hub and drive yuan convertibility. It is intended to boost growth which is now heading for a 23-year low.
The Shanghai Pilot Free Trade Zone (FTZ) is an 11 square-mile district that overlaps four existing special trade zones in the Pudong district. It is hoped foreign firms will set up their Asian headquarters in the city and promote trade and encourage foreign investment across 18 service industry sectors.

Citigroup, Singapore-based DBS and Bank of China are among some of the financial instructions which will operate in the zone, and serve as liaison for international investors to gain more access to domestic financial markets. Local state media reported 25 Chinese and foreign companies have been awarded registration licenses.

At an opening ceremony, Commerce Minister Gao Hucheng said the new special economic zone would exist as "an experimental field to conduct economic reform."
One of the key economic reforms will be the free convertibility of the yuan, the tightly controlled currency which experts believe will be 'released' into the global economy and traded openly like most other power currencies within 5 years.

China's key trade partners – the US and the EU – have been complaining the yuan was undervalued. This has made Chinese goods cheaper in international markets, which has largely helped win over competition.
Parent organizations of companies registered in the zone will be first to experiment with yuan convertibility, as they will have permission to issue yuan-dominated bonds in China to foreign markets.

Many national banks are now switching over to the yuan to diversify their currency reserves, and may use the new zone as an avenue to invest in the up-and-coming currency.
If the three year trial is successful China's State Council hopes to replicate similar zones across China.

The Hong Kong special economic zone helped liberalize trade in the 1980s and contributed to the world's second largest economy's phenomenal 3-decade growth period. Hong Kong was handed over to China by the UK in 1997, and since has gravitated closer to mainland policies. Experts say the Shanghai based free trade zone can pose competition to the offshore Hong Kong. Currently there are 14 port zones in China with preferential export fee regimes and more lax customs declaration for foreign suppliers.
A few other idiosyncrasies will exist in the special zone- Facebook, which is banned in mainland China will be available, as well as the sale of video game consoles, which is also not permitted in China. Property prices surrounding the special economic zone are forecast to spike.

China's booming, almost fairytale economic story, has developed five-fold over the last 23 years, aided by an emerging middle class, cheap labor, and an export driven strategy, but the narrative has entered a new phase of modesty, as growth dropped below 8 percent for the first time in 20 years in Q2, the ninth slowdown for China in the past 10 quarters.