The sluggish silk road: China's growth slows to 7.5%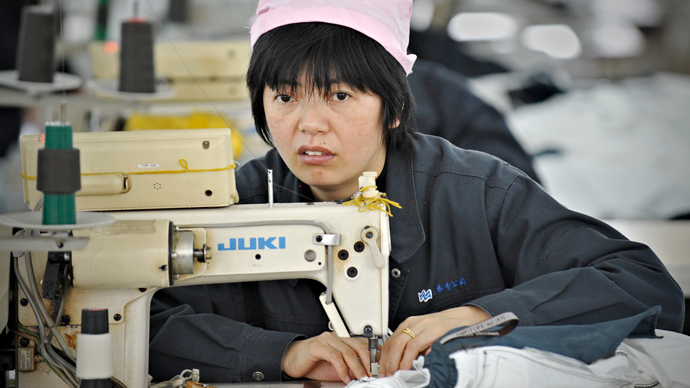 The slowdown most experts expected has finally set in - Chinese GDP growth slowed to 7.5 percent in the second quarter, unhinging skepticism but hardly effecting stocks and indexes.
The world's second-largest economy lost steam for a second consecutive quarter as both factory output and fixed-asset investment decreased.
Industrial production fell to 8.9 percent, more than expected, in June, missing the 9.1 percent target and down from 9.2 percent in May, and fixed-asset investment fell to 20.1 percent from 20.4 percent in the same period.
China's statistics bureau said the economy's performance in the first two quarters is 'stable' and fell within an expected range.
The quarterly contraction is the ninth of the 10 last financial quarters. 
"These figures are not surprising, adding to signs of downward pressure on China's economy," Zhou Hao, an economist at ANZ Bank in Shanghai, told Reuters.
China's Statistic Bureau said the Chinese GDP fell to an annual rate of 7.5 percent from April to June, down from 7.7 percent  in the first quarter. The Bureau has maintained a target growth rate of 7.5 percent for 2013, which dwarfs most shrinking economies in Europe and US growth of 1.8 percent in the first quarter, and is less than half of Singapore's annualized 15.2 percent growth.
The 7.5 percent figure has already been trimmed down from a previous, over-zealous 8 percent growth target. Manufacturing slowed in June.

China has reaffirmed that the global economy has settled into a growth paradigm - the 'new normal', which, revised by the World Bank, will see the world GDP expand less than 2.2 percent this year.
'Likonomics'
China's booming, almost fairytale economic story, has developed five- fold over the last 23 years, aided by an emerging middle class, cheap labor, and an export driven strategy.
Now, it's settling into a more developed, and not developing, pace, which could actually be healthier for domestic growth, but is bad news for economies depending on the 'dragon economy' to breathe life into the global recession.
China is now seeking to build a self-sufficient economy where domestic consumption is set to become a key driver of growth rather than exports and investment.
In order to facilitate this transition, Premier Li Keqiang has introduced 'likonomics'- not government stimulus and structural change from within.

Economists agree Li is unlikely to dictate major stimulus or a policy shift, and will continue his reform technique to combat the trillions of dollars in local government debt racked up during the 2008/2009 financial crisis.
The European Union has cut their interest rates to record lows to foster growth, but the Chinese government has indicated this is not the direction they're heading.
The negative outlook doesn't seem to have spooked investors, as all Asian markets have continued trading business-as-usual.
Asian floors are making strides despite China's official slowdown. The Hong Kong Hang Seng Index has eased and is up 0.12 percent to 21,303.31, the Nikkei has climbed 0.23 percent to 14,506.25, and Australia's S&P 200 has gained 0.15 percent to 4,981.11.
You can share this story on social media: