Market Buzz: China's 7.5% growth disappoints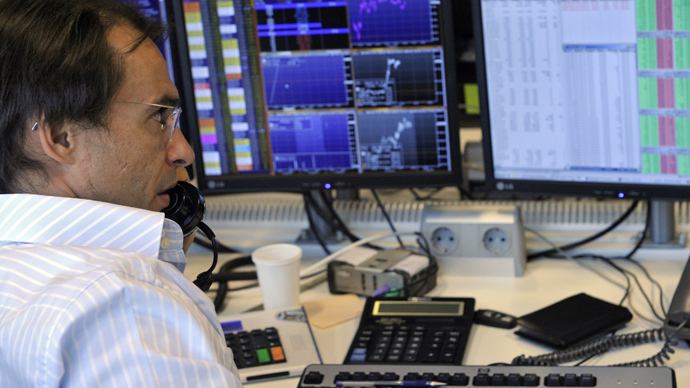 The world's second-largest economy slowed for a second consecutive quarter as both factory output and fixed-asset investment decreased, down 0.2 percent from an already lower-than-expected first quarter growth rate of 7.7 percent.
The drop to 7.5 percent matched most analysts' predictions, and oil also lowered after the report was issued.

Russian stocks hit big gains Friday as oil climbed for a third straight week and investors looked to up their stake in Russia's main GDP driver. WTI crude oil is up 0.02 percent to 105.97, and Crude is still trading at record highs of 108.84. Prices first spiked following social unrest and the ousting of Egypt's president.

Gazprom, Russia's oil major, climbed has 3.41 percent. Russia's leading lender, Sberbank, has made significant gains and is up 3.47 percent.

The MICEX is down 0.3 percent at 1,393.98 and the RTS index is down 0.25 percent to 1,345.48.

Brent crude is set to advance for a fourth day as analysts closely eye unrest in Egypt and potential supply disruption scenarios. Total US crude oil inventories stood at 383.8 million barrels as of last week, a slight decline in supply.

Russian traders will closely watch the relationship between the increase in crude pricing and a ruble that is projected to continue to weaken. The ruble has edged up slightly against the dollar to 32.6234, dropping below 33 rubles for the first time since July 9.

Brent Crude will probably continue its Russian-friendly increase, before settling to pre-Egypt crisis levels.

London's FTSE 100 index has taken a big dive, but is slightly recovering and is trading at 6,544.94.  Germany's DAX is down 0.55 percent to 8,212.77 and France's CAC40 is down 0.36 percent to 3,855.09.

Asian floors are making strides despite China's official slowdown. The Hong Kong Hang Seng Index has eased and is up 0.12 percent to 21,303.31, the Nikkei has climbed 0.23 percent to 14,506.25, and Australia's S&P 200 index has gained 0.06 percent.