Russia and China strengthen trade ties with $85 billion oil deal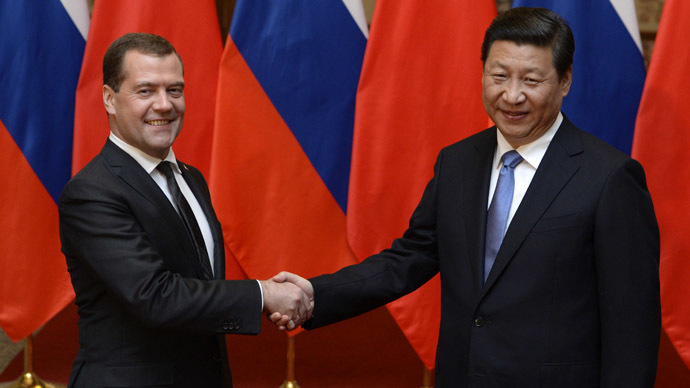 The world's fastest-growing energy market China and world's biggest oil producer Russia have strengthened their business ties on Tuesday after signing 21 trade agreements, including a new 100 million ton oil supply deal with China's Sinopec.
Under the new energy deal, Rosneft, the world's largest-listed oil producer, will supply China with up to 100 million tons of crude oil over 10 years. The agreement is testimony the neighbors have "reached a higher and a brand new level of cooperation," Prime Minister Dmitry Medvedev said during an online chat with Chinese citizens, Xinhua reported.

Rosneft will export through China's Sinopec, company chief Igor Sechin said. Up to 30 percent of the shipment payments will be prepaid. Rosneft controls nearly 40 percent of Russia's crude oil.
Medvedev is on an two-day official visit to Beijing and met with Chinese Premier Li Kegiant and Zhang Yujing, the president of the Chamber of Commerce, at the 18th annual economic summit of Russian and Chinese government and finance ministers.

"The collaboration in the energy field is key to bilateral cooperation. I hope the deals we signed today can be implemented in an orderly way and those deals that are still under negotiation, such as natural gas deals, can reach an agreement very soon," Medvedev said in Beijing.

Liquefied natural gas is another point of the energy negotiations, as Novatek, Russia's biggest independent natural gas producer, signed preliminary memorandums with CNPC on Tuesday to sell at least 3 million tons of LNG per year between Yamal LNG and PetroChina International. The partners still need to finalize delivery contracts and pricing, which will be announced before the end of the year. Currently, Russian gas is not supplied to China. 
Under Russian law, neither company is allowed to trade LNG abroad, only state-run Gazprom is allowed to ship to foreign markets. Both Rosneft and Novatek may be eligible to export LNG starting December 2013, if Russia's Energy Ministry awards the companies permits. 

Russia, holder of the world's biggest natural gas reserves, is looking to China as a key energy market as demand from Europe remains weak and the Americas are becoming more self-sufficient in their energy needs.

Rosneft, which is 75 percent state-owned, is vastly expanding its LNG projects to diversify its portfolio, and is focusing heavily on eastern markets, like Japan and China.

Rosneft and China National Petroleum Corporation (CNPC) struck a $270 billion contract over 25 years at the St.Petersburg Economic forum in June, and secured advance payments from China to help finance its $55 billion acquisition of TNK-BP.

In the next 25 years, Russian oil exports to China will exceed 700 million tons.

China will pump $20 billion of investment into domestic projects in Russia focusing on transport infrastructure; highways, ports, and airports, and they hope to increase investment in Russia four-fold by 2020. By the same year trade turnover between the two countries is expected to reach $100 billion.

You can share this story on social media: