Putin seeks to boost trade with China to new record $100bn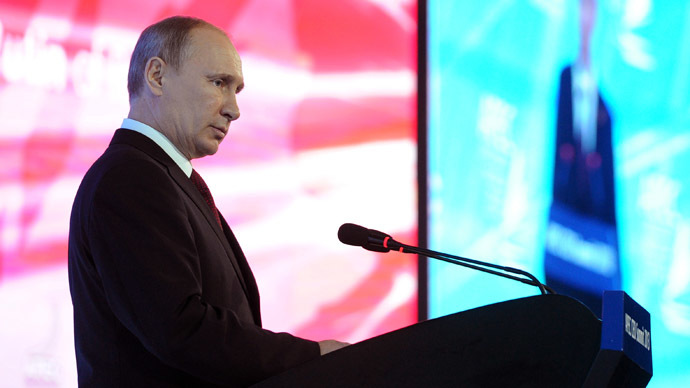 Russia wants to use its growing cooperation with China to boost trade by 15%. President Putin told the APEC Summit in Bali that Russia is poised to increase trade from the current record $87.5bn to at least $100bn.
"Today we have cooperation agreements in various fields, including projects in high-tech and aviation… We also have a lot of infrastructure projects, I mean in railway and highway construction… Our trade turnover stands at record $87.5bn and our target is to increase it to $100bn," Putin said at the Asia-Pacific Economic Cooperation (APEC) meeting in Bali on Monday.

"We also have very good perspectives of joint space exploration, we have certain projects, and really hope we'll advance with them," Putin added.

Energy cooperation between Russia and China remains the strongest point of contact, with China's state-owned gas major PetroChina reported to be looking at a $10 billion investment in Russian gas fields. Another milestone project that also include Brazil, India and South Africa is a $100 billion BRICS development bank, aimed at financing joint development ventures, and to become a to rival the dominance of the World Bank and the IMF.

The 21 – nations APEC club covers territories form tiny Brunei to the US and China, and accounts for more than 3 billion people and over a half of global GDP. The annual APEC meeting provides regional leaders with the floor to agree on the measures to encourage trade and business cooperation. This year's meeting is also a boon for the host Bali, that has struggled to recover its tourism industry from the effects of terrorist attacks in 2002 and 2005 that killed over 200 people.

You can share this story on social media: