​Russia loses $140bn with sanctions and falling oil prices – Finance Minister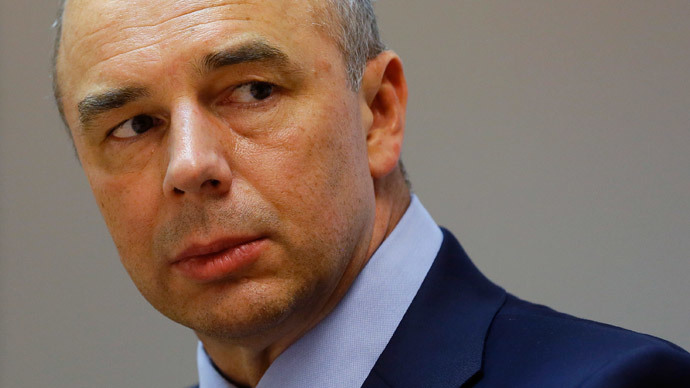 Russia is losing around $40 billion a year due to Western sanctions, but they are not as critical to the economy as lower oil prices, which add $90-100 billion in losses, says Russian Finance Minister Anton Siluanov.
"We lose about $40 billion a year because of the political sanctions and around $90-100 billion a year due to the 30 percent reduction in oil prices," RIA quotes Siluanov speaking Monday at the International Financial and Economic Forum.
Lower investment and foreign loans along with capital outflow, estimated at $130 billion this year, are the key components of the loss, Siluanov explained.
READ MORE: Economic contraction, oil price fall won't be as severe as 2008-2009 – Finance Minister
Siluanov believes the decline in oil prices has a more significant impact on the Russian economy than the international sanctions.
"If we talk about the consequences of geopolitics, of course, they are important for us," he said. However, he added that "it is not as critical for the course, and even for the budget, as the prices of goods exported by us."
READ MORE:Russia prepared for 'catastrophic' drop in energy prices – Putin
Talking about the ruble's depreciation, Siluanov said that fluctuating oil prices should serve as a principal indicator of the ruble's exchange rate amid a period of high volatility.
"The price of oil has fallen by 30 percent since the beginning of the year. Incidentally, the ruble has weakened by the same 30 percent. When people ask me - listen, you're the Minister of Finance, what's the ruble rate going to be? It is impossible to answer because there are a lot of factors. I say, look at oil prices. The behavior of the ruble will depend on them," said Siluanov.
READ MORE:Russian ruble continues recovery, as oil back to $80
The price of Brent crude, which is used to calculate the price for Russian Urals blend, has fallen by 30 percent to about $80 a barrel since the end of June; its lowest price for four years.
According to the International Energy Agency, the total supply of oil on the world market in October increased by 35 thousand barrels to 94.2 million (2.7 million barrels more than in October 2013). In the same period, the average daily volume of oil supplies by OPEC countries in the world market amounted to 30.6 million barrels.
OPEC countries are also adding to the oversupply as they've been exceeding their quota of 30 million barrels per day for the last six months.
According to IEA experts, the decline in oil demand from China, world's second largest oil consumer, and rising oil production in the US will lead to a sharper decline in prices in early 2015.
On November 27, OPEC leaders will meet in Vienna to decide whether to shore up oil prices by cutting output.
You can share this story on social media: