Cheaper oil takes Russian ruble to new lows; officials say no reason to worry
The ruble is hitting new lows, as oil falls to prices not seen since 2009. Deputy Prime Minister Igor Shuvalov says the country's economy won't be hurt, and federal funding from the budget will be met.
A dollar bought more than 53 rubles at 2:20pm on the Moscow stock exchange on Monday. The sharp decline in the price of the Russian currency comes as Brent crude traded at $69.46 a barrel at 1:30pm MSK.
The euro has also hit a record exchange rate reaching 65 rubles at 1:30pm MSK. Both currencies gained nearly two rubles from Friday's closing price.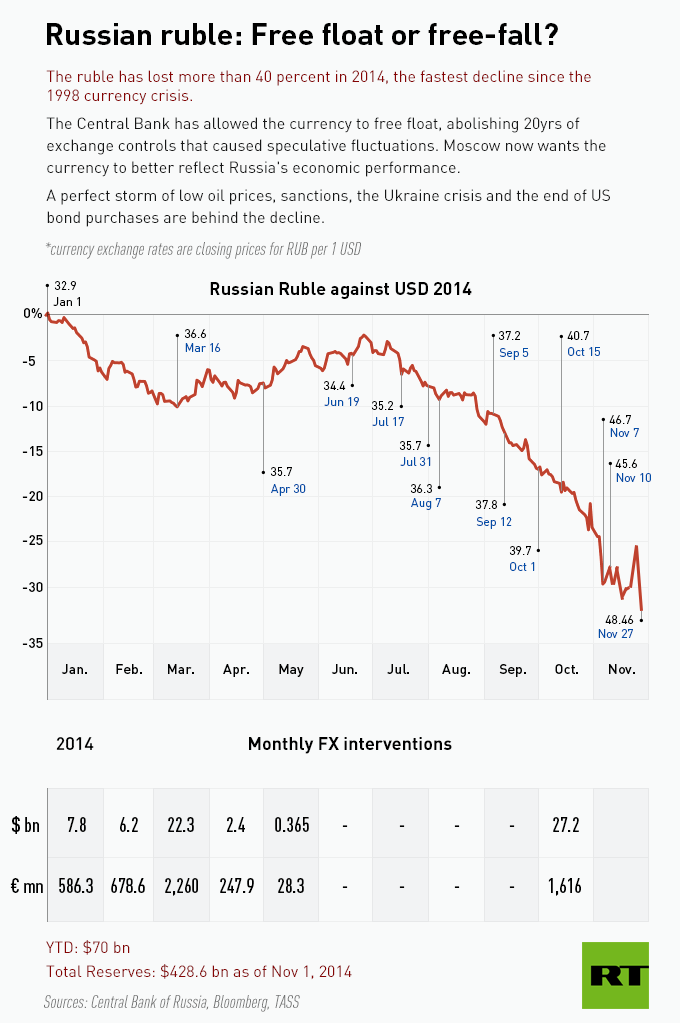 The depreciation of the Russian currency intensified after the November 27 OPEC meeting which decided not to cut oil production. The quotas were left unchanged at 30 million barrels per day.
READ MORE: Oil slumps 4% as OPEC leaves output unchanged
Oil, the backbone of the Russian economy, has fallen in price about 30 percent since the summer, and is touching five-year lows.
The OPEC decision wasn't a surprise for Russia, Deputy Prime Minister Igor Shuvalov said in an interview with the Vesti TV channel on Saturday.
"We watched what actions would be rational for the government to take…. So, Russia's interest at the moment is not to cut oil production," he said.
READ MORE: Russia not planning to reduce oil production – Deputy PM
Shuvalov said he expected oil prices to go up soon, as the coming cold should increase the demand.
"All experts predict an increase in consumption of oil and gas. But even if these predictions of higher prices don't follow through, we have a safety net - we have nothing to worry about," he said.
"The Bank of Russia has allowed the ruble tofloat freely. It's becoming cheaper, but the budget capacity won't change. And we will meet all the obligations of the federal budget."
Russian Economic Development Minister Aleksey Ulyukaev also said over the weekend that the drop in oil prices won't affect the country's economy, as the revenue received in dollars is balanced out the changing currency rates.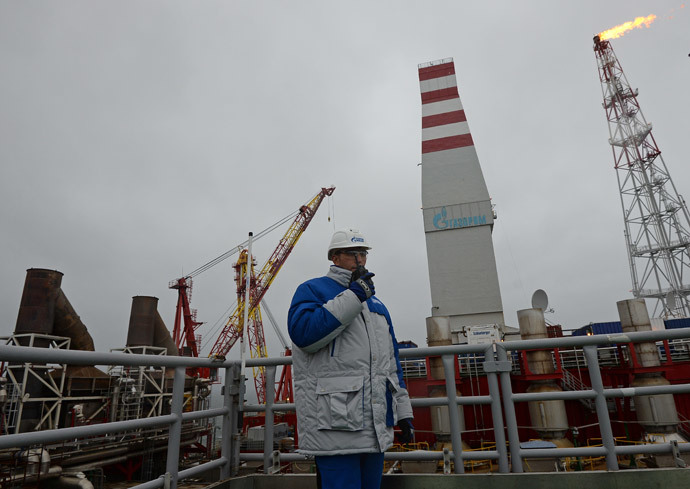 Low oil hitting world economies
The less wealthy OPEC countries that depend on crude exports for the majority of their income are likely to be hit the most by the cartel's decision not to cut production.
Countries like Venezuela and Nigeria do not have the same low-cost production or reserves as Saudi Arabia, and will be facing a hard challenge to maintain their social obligations.
Ahead of the OPEC meeting, Venezuela was pushing for a cut in production, as it needs oil to settle above $120 to balance its budget. As a result, the country's oil income has fallen by 35 percent in the past month, said President Nicolas Maduro on state television last week.
Iran needs a price at $140 per barrel to balance its budget. Money received from crude exports pay for more than 50 percent of government spending.
Nigeria has devalued its currency by nearly 10 percent and increased interest rates to a record 13 percent. The government is planning to cut spending by 6 percent next year, according to Finance Minister Ngozi Okonjo-Iweala.
Other countries outside OPEC which rely on income from oil have also experience a negative impact, says RT's correspondent Murad Gazdiev.
In Europe, Norway has seen the kroner lose almost a fifth of its value against the dollar in 2014. Neighboring Denmark is also ringing alarm bells as the country's budget is reliant on the price of oil.
Even in the US, which expects to become the largest oil producer by boosting shale production, some fracking companies involved in extracting shale oil have lost 70 percent of their value in recent months, and are going to lose even more if the price of traditionally extracted oil continue to go down.
Some experts describe the current situation with oil prices as the result of OPEC squeezing out "frackers" and trying to establish a monopoly in the conventional oil market.