Low oil prices OK for Russian economy due to currency rates – minister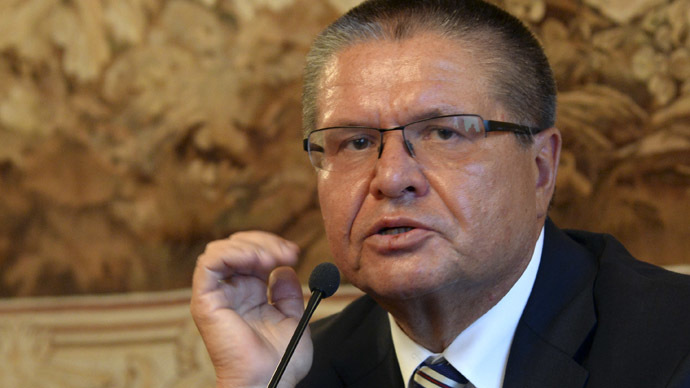 The current oil price – about $70 per barrel – is acceptable for Russia and will not cause internal crisis, Aleksey Ulyukayev, minister of economic development, says. The price that matters for the budget is in rubles, which is balanced by currency rates.
Speaking to Channel One, Ulyukayev said the slump in oil price, which followed a decision by OPEC countries not to cut production, will not affect the Russian economy and people's lives very much.
"The budget will be run, and run well, it will even get surplus," the minister said. "Generally, the financial system will be quite comfortable."
READ MORE: Low oil prices OK for Russian economy due to currency rates – minister
Ulyukayev explained that the oil price in rubles is formed by two factors: the market price and currency rates. A hike in the dollar's value has balanced off the "real" oil price for Russia, making it nearly the same 3,600 rubles per barrel it used to be earlier.
According to the minister, not only will the government fulfill its social obligations, it will even have a budget surplus under the new circumstances. All expenditures in the Russian budget are calculated in rubles.
Ulyukayev predicted that both the demand for oil and the price will rise in winter. According to the minister, the market will try to find a balance and the price will become stable.
"The market is searching for the balance, and I think it will be searching for it for some time," he said, adding that the current oil price looks understated and that the more realistic one is about $90 per barrel.
The sharp plunge of the ruble over the week caused anxiety over expenses in the social sphere, and a rising demand for foreign currency. However, Ulyukayev advised the population to stay calm and keep their money in rubles, not rushing to save dollars or euros for a rainy day if one does not need them in the near future. According to him, a mass-scale currency conversion would only enrich banks, not the population.
As for the budget payments, the minister pledged they will be fulfilled "in full extent." Pensions will be augmented in accordance with the inflation rate, and the Russian government also has additional reserve funds to cover all necessary expenses, he said.
However, the current situation will cause a revision of the rate of economic growth – but "all these adjustments will be within the range of decimal of percent of GDP," the minister estimated.