​Extend house arrest of billionaire Yevtushenkov till spring, prosecutors ask court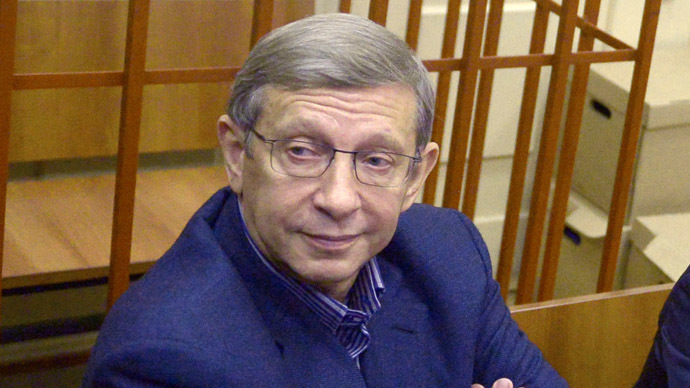 The General Prosecutor's Office has petitioned a Moscow court to extend house arrest for Vladimir Yevtushenkov, head of Russia's biggest conglomerate AFK Sistema. This is to prevent the billionaire fleeing abroad or destroying evidence, prosecutors say.
"The defendant can take steps to destroy evidence and also put pressure on witnesses and other participants of the court proceedings," the office said Friday, requesting the house arrest be maintained until March 16.
After the court's decision was made public, Bashneft and AFK Sistema shares dropped 1.8 and 3.17 percent respectively on the Moscow Exchange (4pm Moscow time).
The investigators also asked that all previous restrictions be retained, namely a prohibition on leaving his residence without permission, and communicating with anyone except close relatives, case defenders, officials of the agency's preliminary investigation and the Russian Federal Penitentiary Service.
The billionaire was also forbidden to send or receive mail or telegrams, or use any communication tools, including the internet.
Yevtushenko's defense plans to contest the court's decision, saying the imposed restrictions violate his rights. Lawyers believe the seizure of Bashneft shares by the court nullifies the damage caused by Yevtushenkov.
READ MORE: Russia's 5th largest oil company to return to state ownership
They also stressed that the defendant has health problems, to which the court replied that he is allowed to visit a doctor.
The investigating committee is planning to carry out a large number of actions before March 16, including inquiries of members of AFK Sistema. It added that ex-employees who have left Russia are ready to return and give evidence.
The period of Bashneft case investigation was extended until April28, 2015.
On September 16, Yevtushenkov was accused of money laundering through acquiring shares of Bashneft by illicit means. The alleged crime carries a possible penalty of seven years in prison and a fine of 1 million rubles (US$21,000).
READ MORE: Russian billionaire Yevtushenkov under house arrest in money laundering case