Investors losing billions as head of Russia's biggest holding put under house arrest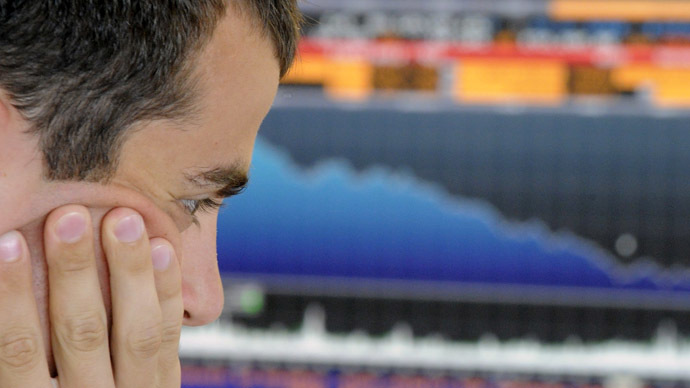 Russia's largest publicly traded holding company AFK Sistema has lost about 37 percent of its value in Moscow by midday, after boss Vladimir Yevtushenkov was put under house arrest for alleged money laundering late Tuesday.
Investors have seen the price of their shares plummeting, with billions of dollars wiped off the company's value.
READ MORE: Russian billionaire Yevtushenkov under house arrest in money laundering case
AFK Sistema

- biggest publicly-traded holding company in Russia

- total assets - $45.2 billion as of June 30, 2014. Q2 revenue was $8.8 billion

- founded in 1993, went public on the London Stock Exchange in 2005

- operates across telecoms, tech, oil and energy, radar and aerospace, banking, retail, mass-media, tourism and healthcare

- Vladimir Yevtushenkov is board chairman and owns 64.19% in stock

- acquired Bashneft in 2009

- directly owns almost 72% of Bashneft's voting shares and overall - 86.7%, 12.6% which is owned by Sistema-Invest

- alleged embezzled stock was seized by a Moscow court on August 27, 2014

- Ministry of Land and Property Relations of Bashkortostan filed a lawsuit against Sistemaclaiming $5.8 billion (209 billion rubles)
Shares in Sistema, a company which Yevtushenkov controls and manages, fell by 37 percent on the Moscow Exchange at 13.00, Moscow Time, which means the company has seen its capitalization lose an estimated $3.55 billion.
In the first half hour of Wednesday trading it was down 28 percent.
Sistema controls Russia's largest mobile phone operator MTS, the oil company Bashneft as well as other lucrative assets. MTS was down 8 percent and Bashneft lost 23.5 percent on the Moscow Exchange.
The Moscow Stock Exchange halted trading in Sistema's shares as a safety precaution. It is applied when a stock drops more than 15 percent in an hour.
Vladimir Yevtushenkov's net worth is estimated by Russia's Forbes magazine at $9 billion, making him the 15th richest man in the country. Russia's investigative committee accused the billionaire of acquiring shares in oil producer Bashneft, in the Russian province of Bashkiria, by "criminal means."
Sistema insists the deal was "legal and transparent."
"The company is fully cooperating with the investigation and intends to use all legal means to defend its position," an official press release said Wednesday.
Dmitry Peskov, the press secretary to President Putin, denied any allegations that Yevtushenkov's arrest was politically motivated.
"Any attempts to add political context to this issue don't have the right to exist," ITAR-TASS quotes Peskov denouncing attempts by some experts to draw a parallel with the Yukos case.
You can share this story on social media: