Killer cost of Ebola: World Bank warns of $33bn doomsday scenario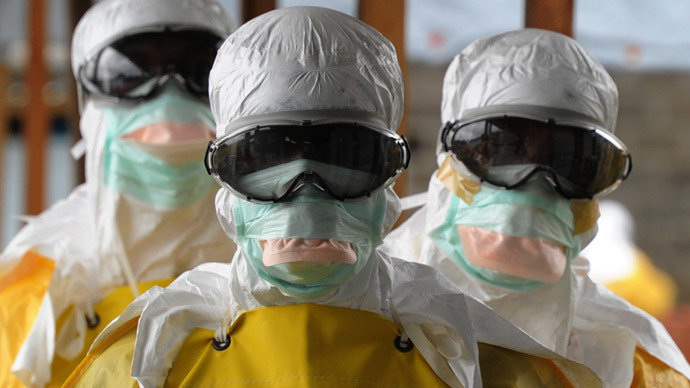 The spread of Ebola presents a $33 billion threat to West African economies says the World Bank. Meanwhile, the rest of the world is pouring billions into halting the deadliest Ebola outbreak in history, from airport screenings to military aid in Africa.
In a worst case scenario, in the next four months there could be 1.4 million Ebola cases, according to a September 23 report from the Centers for Disease Control and Prevention. This would be a 175-fold increase from the current 8,033 cases. So far 3,879 people have died from the outbreak, with the majority of deaths occurring in Guinea, Liberia and Sierra Leone.
READ MORE: Ebola spread 'unavoidable' in Europe due to extensive travel - WHO
Increased military personnel and vigilance over airport screenings are costs the West will incur in an effort to keep the disease outside its borders.
West Africa economy
The World Bank warned on Wednesday that the Ebola outbreak could deliver a $32.6 billion blow to the economies in West Africa, if the disease isn't contained.
If the spread of the disease is contained by the end of 2014, it would hit gross domestic product by $3.8billion by the end of 2015. This is a "Low Ebola" risk scenario.
In the event of a 'High Ebola' scenario which sees the disease spreading to Ghana, Nigeria, and Senegal, it would cost the region $32.6 billion, or 3.3 percent of regional GDP. The region would lose $7.4 billion in 2014 and an additional $25.2 billion in 2015.
The IMF still forecasts Sierra Leone's economy will grow 8-9 percent in 2014.
Natural resources are abundant in the region, the oil industry in Nigeria as well as offshore reserves are a critical cog in the economy, and Ebola is keeping business away.
ExxonMobil has postponed oil drilling off the coast of Liberia, where it previously planned to explore offshore blocks. Other exports- such as rubber and iron ore are expected to tumble as investors halt operations and expansion.
READ MORE: Exxon puts Africa oil project on pause over Ebola outbreak
No cases of the deadly disease have been reported in Libya, which has the largest proven oil reserves in Africa. Nigeria has contained its outbreak.
Nonetheless, tourism companies are seeing a dramatic drop in Africa holiday traffic; bookings have dropped 30 percent to some popular destinations, according to the World Travel and Tourism Council.
Military spending
British Prime Minister David Cameron has pledged £125 million in aid to Liberia to help fight the fatal disease, and will send 750 personnel to the country along with a navy ship and three helicopters. The aid money will be used on medical training and 700 treatment beds.
The US military is reportedly spending $750 million to fight Ebola and has already deployed 300 American military personnel to Liberia and plans to send as many as 3,000 troops to the virus-hit regions. The Department of Defense is asking congress for permission to shift $1.06 billion towards Ebola military operations.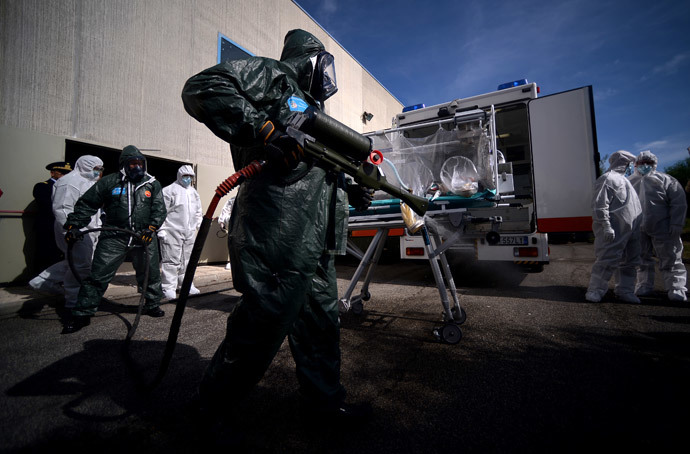 Airport screenings
Ebola has made its way from West Africa and is penetrating Western borders. The US reported its first death on Wednesday, and there is panic that nurses in Spain and Australia have brought the worst Ebola epidemic in history to their home countries.
US President Barack Obama has designated the Ebola outbreak a "national security priority" and starting Saturday, the US will increase airport screenings for passengers traveling from West Africa.
Five of America's biggest airports will interrogate and take temperatures of travelers arriving from Guinea, Liberia and Sierra Leone, director of the Centers for Disease Control and Prevention, Dr. Tom Frieden, said Wednesday. Border control and flight crews will also help identify any potential disease carriers.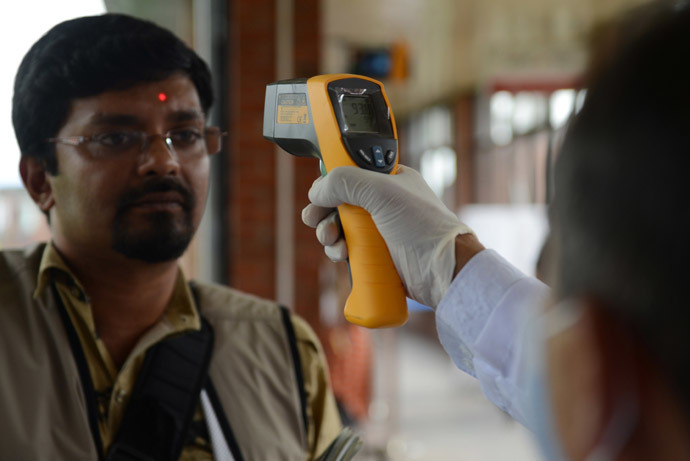 About 150 people travel from the Ebola-hit countries to the United States on a daily basis.
"Germs have always traveled. The problem now is they can travel with the speed of a jet plane," Howard Markel, a professor of the History of Medicine at the University of Michigan, told the New York Times.
UN, WHO, WB, and Bill Gates
The United Nations has said it will need nearly $1 billion to fight the unprecedented outbreak, and many countries have responded with charitable donations. Many western countries have stepped up and contributed to the UN. The US government, through various agencies, has sent $208 million, and there are millions more requests pending Congressional approval. Canada has dispersed $35 million to the UN.
The World Bank has pledged as much as $200 million in emergency funding to help fight the deadly disease.
At the end of August, the World Health Organization (WHO) estimated the organization will need $490 million to fight it.
According to WHO, it costs $244 to test one person for Ebola and it costs another $404 to dispose of a deceased victim.
The Bill and Melinda Gates Foundation said it will contribute $50 million to help fight the virus.
Hospital bills
Healthcare isn't cheap. Thomas Eric Duncan, the first man to die from Ebola on US soil, has a hospital bill that may reach half a million dollars, according to analysts. Treatment, quarantine, experimental drugs, blood transfusions, and body fluid maintenance coupled with expenses the hospital incurred taking the special case, may eventually total $500,000, Dan Mendelson, CEO of DC-based consulting firm Avalere Health, told Bloomberg News.
Other expenses taken into account are protective clothing for doctors and nurses, security, and the proper disposal of virus-contaminated items such as clothing, medical waste, and equipment.
You can share this story on social media: