UK to send 750 troops to Sierra Leone in Ebola support effort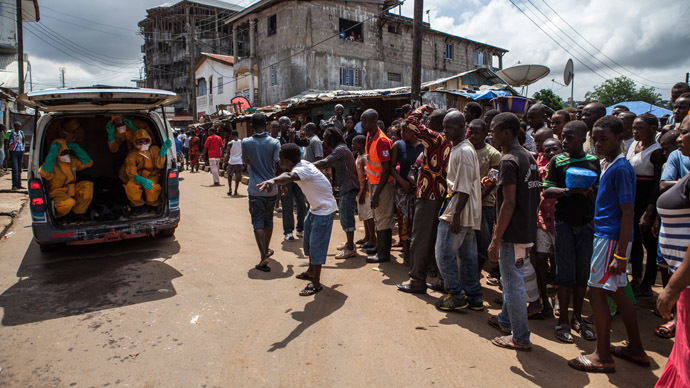 Prime Minister David Cameron will send 750 troops to the West African state of Sierra Leone in an effort to help contain the Ebola virus and to build a specialist treatment center.
The announcement comes after the PM chaired a meeting of Cobra, the government's emergency response committee.
Royal Fleet Auxiliary ship Argus, equipped with a 100-bed medical complex, and three Merlin helicopters to aid troop movements will also be sent to West Africa. The Ministry of Defence (MoD) previously announced that 40 soldiers based in Northern Ireland have been deployed to Sierra Leone.
I've just chaired a COBRA meeting on Ebola, looking at how we tackle it overseas and make sure the UK is fully protected.

— David Cameron (@David_Cameron) October 8, 2014
"The Ebola outbreak in West Africa is already a global threat to public health and it's vital that the UK remains at the forefront of responding to the epidemic," Defence Secretary Michael Fallon said in a statement.
"Following today's meeting we are stepping up significantly the UK's contribution and leadership in work to tackle the outbreak on land, in the air and at sea.
Medical staff http://t.co/sKixLz7pb0 in training to provide treatment unit for health workers in Sierra Leone #Ebolapic.twitter.com/gPbzWrc3Kg

— British Army (@BritishArmy) October 7, 2014
"At the heart of the package is the commitment to provide more than 750 personnel to help with the establishment of Ebola treatment centres and an Ebola training academy," he added.
Measures agreed at emergency #COBR meeting will help Sierra Leone treat nearly 8,800 patients over 6 months. #endEbola

— Ministry of Defence (@DefenceHQ) October 8, 2014
The move is the latest stage in the UK's international response to the deadly virus, which has killed more than 3,400 people in West Africa since March and has been declared the worst Ebola epidemic in history.
The US has deployed 300 troops to Liberia, also badly affected by the outbreak. Some 3,000 more are due to arrive there for support and training purposes.
~100 SPMAGTF-CR-AF #Marines deployed today to provide resupply, transportation support in LIberia — @PentagonPresSecpic.twitter.com/4xpk0ngZWu

— U.S. Marines (@USMC) October 8, 2014
Cameron reportedly talked by telephone with Sierra Leone's President Ernest Bai Koroma on Tuesday. Britain's £125 million aid channeled to the African state will be deployed to sustain specialized medical training and 700 treatment beds for Ebola sufferers in the region.
The announcement come as a Liberian national, who recently became the first man to ever be diagnosed with Ebola in the United States,died at a Dallas hospital.
Four UK hospitals are on standby to cope with an outbreak should cases emerge in Britain.
You can share this story on social media: