Exxon puts Africa oil project on pause over Ebola outbreak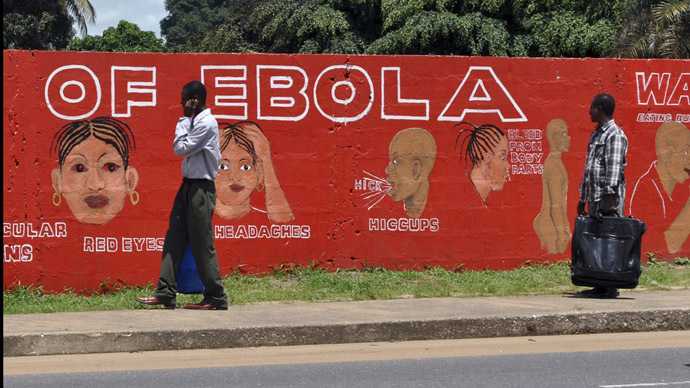 ExxonMobil is to postpone oil drilling off the coast of Liberia, a hotspot in the Ebola pandemic, CEO Rex Tillerson told reporters in Houston.
The Texas-based oil major has a number of projects underway in West Africa, including the recently acquired 80 percent stake in a project off the coast of Liberia, a joint venture with Canadian Overseas Petroleum.
"We had some drilling plans for some blocks offshore in West Africa and Liberia and in that area," Tillerson told reporters Thursday. "We are having to look at when it would be prudent to resume operations there because you do have to have shore-based operations; you have to have people going in and out."
Exxon also has projects in Nigeria, Angola and Equatorial Guinea. Cases of the deadly disease have been reported in Libya, which has the largest proven oil reserves in Africa.
The US oil giant is also taking precautionary steps to protect employees, and has already imposed travel restrictions and halted projects in Ebola-stricken areas.
The first case of Ebola in the US was reported earlier this week when Thomas Eric Duncan arrived from Liberia and is now in a hospital in Dallas, Texas.
On Wednesday another US national, 33 year-old Ashoka Mukpo, the NBC News reporter in Liberia who was covering the outbreak of Ebola in the region, was diagnosed with the deadly virus, the channel reported. He is being evacuated to the USA for treatment.
The Ebola virus causes an acute, serious illness which is often fatal if untreated. Ebola virus disease (EVD) first appeared in 1976 in 2 simultaneous outbreaks, one in Nzara, Sudan, and the other in Yambuku, Democratic Republic of Congo. The latter occurred in a village near the Ebola River, from which the disease takes its name.
In a recent update, the UN World Health Organization (WHO) reported 7,178 cases and 3,338 deaths from Ebola based on information provided by the Ministries of Health of Guinea, Liberia, and Sierra Leone. The agency says the upward epidemic trend is continuing in Sierra Leone and most probably also in Liberia.
You can share this story on social media: