US approves experimental drug for emergency Ebola treatment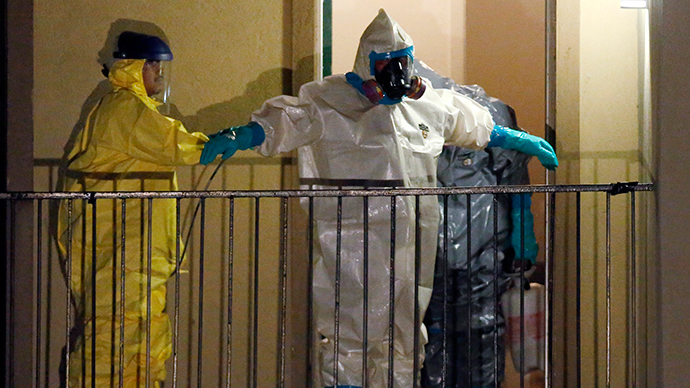 ​Regulators in the United States have approved an experimental drug for treating patients suffering from the Ebola virus one week after health officials in Dallas, Texas diagnosed a Liberian national with the deadly disease.
On Monday this week, drug makers Chimerix announced that the US Federal Drug Administration has approved the use of its brincidofovir to treat Ebola symptoms during emergency situations. The FDA extended Chimerix an Emergency Investigational New Drug Application, or EINDA, meaning the drug can be used in the event of an emergency without waiting for the results of more stringent agency testing.
"Chimerix is committed to working with global health organizations and government agencies in the fight against the Ebola virus outbreak," Dr. M. Michelle Berrey, M.D., the company's president, said in a statement. "Based on in vitrodata from work conducted by the [Centers for Disease Control and Prevention] and the National Institutes of Health suggesting brincidofovir's activity against Ebola, we are hopeful that brincidofovir may offer a potential treatment for Ebola Virus Disease during this outbreak."
Later in the day Monday, US President Barack Obama said his administration is considering additional airline passenger screening protocols to be implemented in order to prevent the spread of Ebola into the US, and added that he plans to ramp up pressure on other large nations to assist with relief in West Africa, Reuters reported.
The latest news concerning efforts to control the disease from spreading in the US comes one week and a day after health officials in Dallas diagnosed the first ever case of Ebola in the country. Late last month, Thomas Eric Duncan of Liberia was diagnosed by authorities in Texas with Ebola after coming to the US from West Africa; on Monday this week, officials said his condition was critical. Meanwhile, the fifth American to contract the disease while abroad arrived in the US early Monday where he is expected to be treated in a secure environment at a Nebraska hospital.
Yet while authorities say the situation in the US is currently under control, native Africans are apparently being widely blamed for introducing the deadly disease to the country. According to a report published over the weekend by Reuters, Africans in the highly diverse Dallas region say they're experiencing taunts and finger-pointing from people who are widely blaming entire ethnic groups over the introduction of Ebola into the United States last weekend.
"Some people around here see us as bringing the disease and that's just not right," a Liberian who asked to be called Sekou told Reuters.
"People are looking at us in a bad way. We didn't have anything to do with this. Somalia does not have Ebola. It is on the other side of Africa," added Shadiya Abdi, 27, an immigrant from Somalia.
"Some guy told me 'go get yourself quarantined,'" an Ethiopian parking attendant in downtown Dallas told Reuters.
"Go back to Liberia," a Liberian nurse working in Dallas says she's been told.
"If I am Liberian, that doesn't mean that I have Ebola," the nurse, Carolyn Woahloe, told the Los Angeles Times. "This is not a Liberian problem. This is a world problem."
Duncan, the first person to be diagnosed with Ebola in the US, was residing at an apartment in the Dallas neighborhood of Vickery Meadow when he went to a hospital last month with symptoms typical of the disease. That neighborhood is home to around 25,000 people speaking more than 30 languages, Reuters reported, and the Liberian Community Association of Dallas-Fort Worth believes there are between 5,000 and 10,000 Liberians in North Texas, and nine Liberian churches.
"People are not happy that the disease has made it to America," Alben Tarty, spokesperson for the group, told TIME over the weekend. "But with the attention it has garnered they think, 'Ok, this is a bad thing, but maybe America can now appreciate what we're going through."
Speaking to the Christian Science Monitor recently, Tarty said he hoped residents of the Lone Star State would refrain from pointing their fingers at entire groups.
"We in the Liberian community hope that stigmatization does not happen," said Tarty. "I have not experienced that yet. The wider community has been supportive. My company gave me some extra paid time off to help in my community. They said to me, 'You have not done anything wrong.' "
Already, though, some say they are feeling isolated because of where they're from. "A lot of people are kind of quiet because it is kind of embarrassing and because we don't expect things to be going like this; it is kind of embarrassing to the Liberian community as a whole," store owner Stephen Joe, who is from Liberia, told Voice of America.
You can share this story on social media: