6 of Trump's most cringeworthy handshakes… so far (VIDEOS)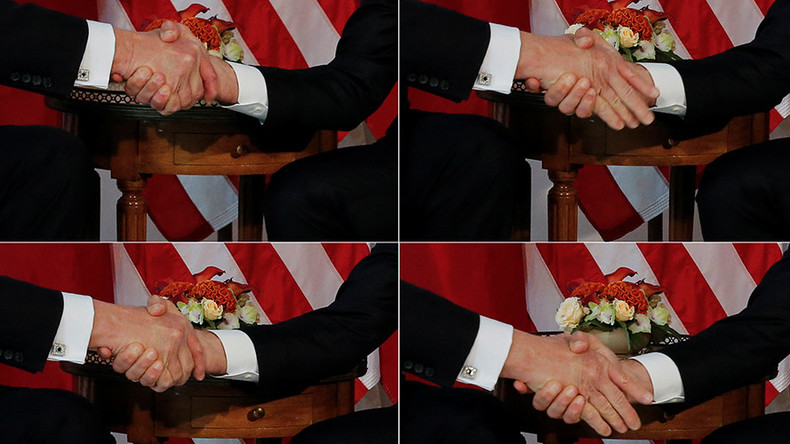 US President Donald Trump's handshake is now infamous for its awkward length and unnecessary force – and now, despite widespread mockery, it appears to be getting worse.
Take the latest example: Trump – who has had peculiar handshakes with French President Emmanuel Macron in the past – held on to the Frenchman's hand for a staggering 28 seconds during their meeting in Paris Friday.
Here are six other examples of Trump's most bizarre handshakes with world leaders to date.
1. The Trump-Macron handshake battle began right at their first meeting when both leaders engaged in a fierce white-knuckle squeeze. Macron later admitted the greeting "wasn't innocent" and was the "moment of truth" for the pair.
READ MORE: Trump compliments French first lady's figure in awkward moment
2. Following their "moment of truth", Macron took a jab at the president by snubbing him in front of the international media on the welcome carpet at the NATO summit in May. Macron made a beeline for Trump only to change direction at the last moment to instead greet German Chancellor Angela Merkel.
During their eventual handshake, Trump responded with his signature grab-and-pull technique, nearly knocking Macron off his feet.
3. The highly-anticipated meeting between Russian President Vladimir Putin and Trump during last week's G20 summit was all the Twittersphere wanted and more, with many saying it resembled political drama 'House of Cards.'
READ MORE: Trump gets beaten at his own never-ending handshake game
4. In February, Japan's Prime Minister Shinzo Abe was visibly relieved when Trump finally released his hand after an intense grip in front of the cameras.
5. That same month, many on social media thought Trump had met his match in Justin Trudeau after the Canadian Prime Minister met Trump's outreached hand with a bemused stare.
6. Trump went another direction when meeting Merkel in the Oval Office. Instead of his now-characteristic grasp, he pointedly refused to shake hands with the bemused German chancellor despite repeated calls from the press pool.