Fans in the flesh: England supporters strip down to cheer on football team (VIDEO)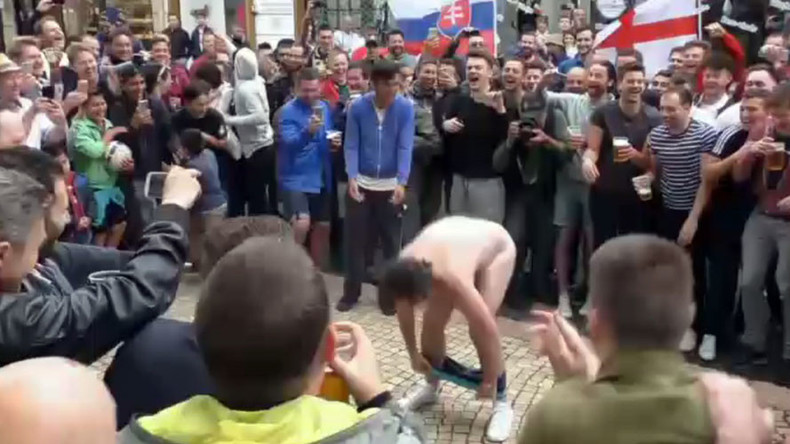 As the Euro 2016 championship continues, England fans have some advice on how to support your favorite team – become highly intoxicated and dance naked in the streets while friends and strangers throw beer on you.
Although the French city of St-Étienne is home to a beautiful 12th century castle, England fans couldn't have been less interested in the sights on Sunday night...because they were too busy drinking.
One man decided a pair of boxer shorts was simply too much clothing, and stripped down to his birthday suit. As he 'danced' in a rowdy circle, fellow fans threw beer on him.
But it wasn't all about naked dancing. There was also a fair amount of jumping around shirtless while chanting and singing, as well as blocking cars trying to innocently make their way through the streets.
The odd showcase of team spirit came ahead of England's game with Slovakia, which is scheduled to take place at 9pm local time (19:00 GMT) on Monday in St-Étienne's Stade Geoffroy-Guichard.
The tournament has so far seen its fair share of violence, including from England supporters. One video showed England fans stomping and urinating on Russian flags. Days prior, RT and Ruptly reporters came under attack from England fans while reporting from Lille.
Meanwhile, UEFA has launched disciplinary cases against Hungary, Belgium, Portugal, and Turkey due to the behavior of each country's supporters. Three Russian fans were jailed for up to two years by a French court for their role in clashes that took place in Marseille, and authorities announced that 20 Russian men were being deported from the country. The Russian Football Union was also handed a €150,000 (US$169,900) fine and a suspended disqualification.