England football 'fans' stamp, spit and urinate on Russian flag at Euro 2016 (VIDEO)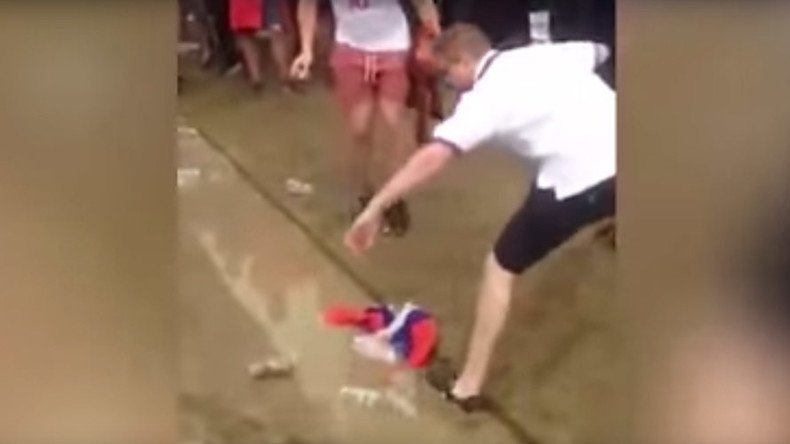 Football fans have not exactly wrapped themselves in glory at the European Championships this summer, and a gang of English 'supporters' has let the sporting fraternity down again, as images have emerged of them stomping and urinating on Russian flags.
Violence between rival fan groups, the most serious of which has involved English and Russian hooligans, has cast a shadow over the event in France.
READ MORE: Battle of Marseille: Violent fans hurl missiles, clash with police ahead of Russia-England match

The flashpoints have seen a number of supporters from both nations either deported or jailed.
In what appears to be a bizarre bid to get one over on their rivals, some English 'fans' desecrated Russia's flag on camera.
The Daily Star has published a disturbing video showing England followers celebrating in Paris, while a group of men spit, urinate, and wipe their backsides on the tricolor.
In the minute long clip, purportedly taken on Thursday, a red haired man wrapped in the English flag punches a Russian banner into a dirty drain before wiping his bum with it.
READ MORE: Theft, vandalism & threats: RT, Ruptly reporters attacked in Lille while covering Euro 2016 unrest
At one point, another man shamelessly pulls down his trousers to urinate on the flag, while his companions shout obscenities.
The unsportsmanlike antics have not been confined to the French capital, either. In Lille, similar scenes saw a crowd of English supporters laughing and singing as a man repeatedly stamps on a mini Russian flag.
The incident reportedly happened outside Les 3 Brasseurs pub in the city center last Tuesday.
You can share this story on social media: