11 fans jailed in France after Euro 2016 clashes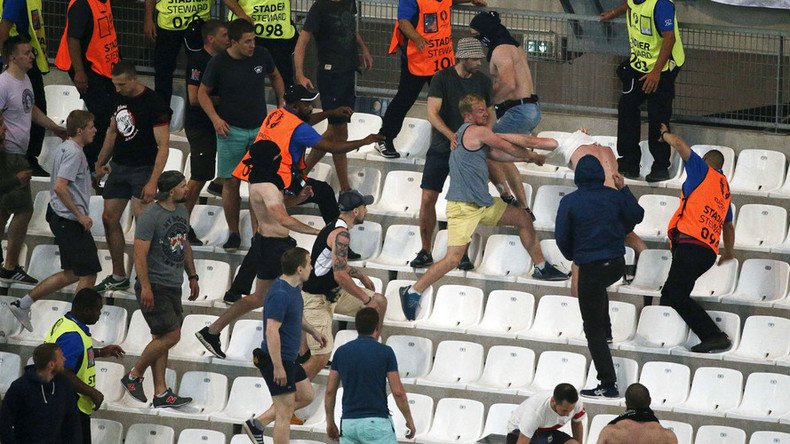 Seven English football fans, three Frenchmen, and an Austrian have received prison sentences in France for taking part in clashes ahead of a Euro 2016 match between England and Russia in Marseille on Saturday.
Euro 2016 football championship in France LIVE UPDATES
England fan Alex Booth, 20, was sentenced to two months, while another, Ian Hepworth, 41, was handed a three-month sentence by a Marseille court on Monday.
Both were banned from entering French territory for the next two years, AP reported.
Booth and Hepworth received sentences for throwing bottles at French law enforcement officers and rival fans.
Hepworth explained in court that he had not intended to hit police with the bottle, but only "wanted to impress my new French friends," according to Daily Mail.
Booth apologized before French police and the city of Marseille, saying: "This is not like me. I'm not a violent person. I love my job and my family. I've never been involved in football hooliganism. I was in the wrong place at the wrong time."
Meanwhile, Booth's father called the ruling a "disgrace," accusing French authorities of "making a scapegoat of a poor kid like Alex'' and urging them to "find the real thugs," AP reported.
Later on Monday, five more England supporters received sentences from the French court for similar offences.
Ashley Kelly, 26, Steven Cornell, and Ian Stockley were ordered to spend three months behind bars and banned from France for two years.
Paul Jackson, 21, and Lee Philips, 23, were handed a lesser punishment of one month's imprisonment and a ban.
Three French citizens and a man from Austria were also sentenced on Monday for being involved in the Marseille clashes.
French national David Palmeri, 29, received the harshest punishment, receiving a two-year sentence. He is to serve one year in prison, followed by a one-year suspended sentence.
Palmeri was found guilty of battery for using his fists, legs, and belt to assault English fans.
He also stole an English flag and an England t-shit from visiting supporters.
More than 30 people were injured when England and Russia fans, as well as locals, clashed before the countries' match in Marseille on Saturday. The game ended in a 1-1 draw.
READ MORE: UEFA to sanction Russia over stadium violence, threatens disqualification for English, Russian teams
Following attacks that killed 130 people in Paris last November, French authorities are focused on preventing similar acts of terror at Euro 2016, but they appear unprepared to deal with football hooligans.
Since the start of the event on Friday, violence has also been seen in Nice, where locals reportedly attacked Polish and Northern Irish fans, and in Lille, where there was trouble between Germany and Ukraine supporters.
You can share this story on social media: